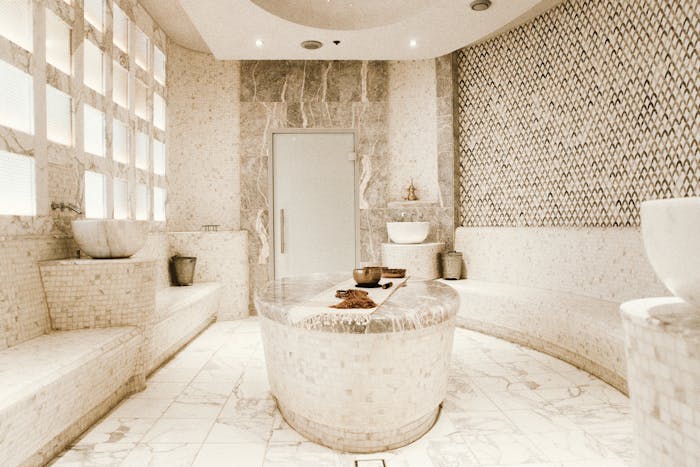 Courtesy of Condado Vanderbilt
There are plenty of ways that spas can support guests' spiritual wellness. Here are 5 properties that are doing it right. 
1. Gemstone Treatments
This winter, Spa Solage, Auberge Resorts Collection in Napa Valley, California, has introduced spiritually focused treatments using healing gemstones to help guests reinvigorate, balance and ground themselves:
Radiant Gemstone Facial features rose quartz, black tourmaline and amethyst. It begins with an anointing oil combined with palo santo and sandalwood for clearing, protection and healing. The treatment also includes a rose quartz gemstone mask to promote radiance; gua sha for firming and contouring; and a soothing, hydrating treatment for the eyes, face and neck.
Balancing Gemstone Massage uses agates for internal security, serpentine for restlessness and nephrite jade for inner balance. All work to relieve tension and balance energy.
Gemstone Infused Mudslide is a grounding and balancing service using Solage Spa's Volcanic Clay Mud combined with the guest's choice of three gemstone-infused aromatherapy oils, each containing clear quartz crystals that benefit the mind, body and spirit.
2. Zen & Grounding Rituals
Spa La Quinta at La Quinta Resort & Club in California has added two offerings that include mindfulness practices.
Grounding Ritual opens with soothing chimes used to clear and heal the aura when combined with breathwork.  The ritual incorporates multi-sensory elements to heighten awareness with visualization, the resort's signature scent, tranquil sounds and more.
Find Your Zen Ritual uses stress-reducing biodynamic flower essences to detoxify the mind and body. The guests soaks in Spa La Quinta's Zen blend and truffle-infused bath, and then dry brushing techniques are used to engage the lymphatic system and calm the mind. Next they receive a hydrating custom massage, and the ritual closes with a self-guided pranayama breathing journey, allowing guests to achieve deep serenity.
3. Mayan Fireside Ceremony
At Etéreo, Auberge Resorts Collection in Riviera Maya, Mexico, guests can partake in a weekly spiritual ritual like the beachside fire meditation and blessing from the in-house shaman. Taking place at sunset to ground participants, the ritual focuses on fire as a spiritual force that connects earthly and otherworldly realms. Guests are invited to immerse their bodies in local Mayan clay and then cleanse in the ocean, using star- and moon-bathing.
4. Transcendent Explorations
Spa Ojai at Ojai Valley Inn in California offers customized sessions with spiritual counselor, healer and psychic Nancy Furst. Sessions include cleansing sage rituals, meditative drumming, Native American prayer song, and psychic readings with Native American cards and crystals designed to heal, enlighten and empower guests to transform their consciousness. 
The spa also offers crystal and reiki energy healing with chakra clearing, and the Signature Kuyam, a detoxifying experience combining self-applied therapeutic desert clay with essential oils, intense dry heat and inhalation therapy in a sauna-like environment. 
5. Craniosacral Therapy
The Vanderbilt Spa at Condado Vanderbilt in San Juan, Puerto Rico, recently added craniosacral therapy to its menu, thanks to its ability to work on subtle levels to produce profound results, such as balancing and de-stressing the body and promoting good energy.