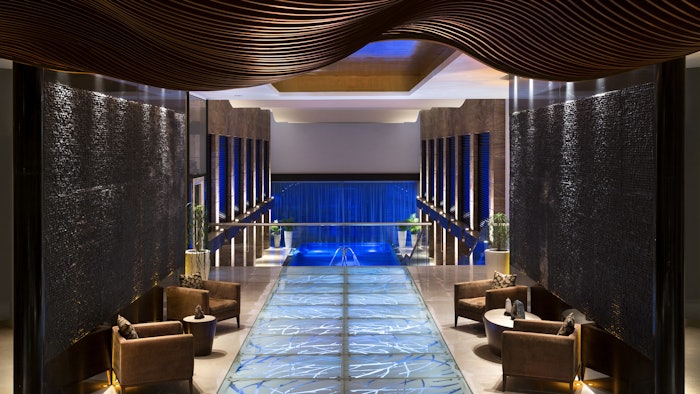 La Coleccion Resorts, a distinctive selection of 30 beach and urban resorts located throughout Mexico and the Dominican Republic, wanted to finish the year off right by offering a variety of wellness experiences.
1. A Steamy Bath
At Fiesta Americana Hacienda Galindo Resort & Spa, Misaya Spa features a steam bath for hygienic, therapeutic and spiritual purposes that benefit the body and soul while balancing the mind and emotions. This treatment creates a ceremony of healing, purification of the spirit and corporal cleansing. The physical body benefits of this treatment include boosting circulation, helping to expel toxins, improving metabolism and reducing stress, insomnia and nervous tension. The Temazcal has four doors to symbolize earth, water, wind and fire as guests are guided through a meditation during the experience.
The Misaya Spa also has a wine therapy treatment that treats guests to a grape exfoliation followed by a grape gel and topped off with a wine wrap. This treatment deeply hydrates the skin, increases luminosity, improves elasticity, firmness and circulation while slowing down aging thanks to the grapes' antioxidant properties.
2. A 7-in-1 Massage
The Seventh Wonder Luxury Massage at the Grand Fiesta Americana Coral Beach Cancun All Inclusive Spa Resort's Gem Spa is a popular treatment that combines seven different massage techniques to create an 80-minute deep relaxation experience. This treatment will help guests pamper and tone their skin in a new and unique way, and they can opt for the Chocolate Body Wrap (50 minutes).
There is also the Infinite Wellness experience for couples that begins with yoga or yoga surfing, followed by reflexology massages. This is then followed by hydrotherapy circuit for two hours at the Gem Spa, a wellness lunch and an indulgent couples massage.
3. Aromatherapy Harmony
The newly reopened Live Aqua Beach Resort Punta Cana provides sensory experiences that allow guest to immerse in total wellness from the moment of check-in with aromatherapy and a hand massage. At the Feel Harmony Spa, the Royal Citrus Ritual (80 minutes) is a face and body treatment that infuses the skin with intense hydration and vitamin C. This treatment smoothes the surface of the skin with exfoliating agents, and guests can feel the energy created by the citrus that removes dead cells for radiant skin.