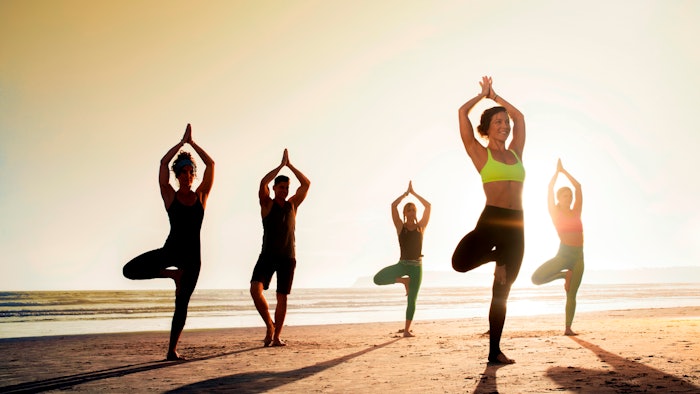 Courtesy of Hotel del Coronado
September is National Yoga Month, and this year it's the perfect time to pause, breathe and reflect in an effort to reinvigorate the body and renew the spirit. A number of destination retreats are rising to the occasion, embracing the practice's wellness benefits and passing them on to guests via curated experiences, collaborations and partnerships, and digital at-home offerings. 
Edgewood Tahoe in Lake Tahoe, Nevada: Thanks to its partnership with Still Water Yoga Lake Tahoe, Edgewood Tahoe can guide guests to their Zen on the property's expansive event lawn with Morning Mountain Yoga. Offered daily, instructors will guide yogis of all levels through mindful breathing exercises and invigorating poses while taking in the crisp mountain air, setting intentions and overlooking the serene waters of the lake.
Waldorf Astoria Los Cabos Pedregal in Los Cabos, Mexico: Guests can indulge in a private sunrise cruise and yoga class during a curated exploration to Cabo's iconic Land's End, located at the final point of the Baja Peninsula. The natural Arch "El Arco" frames the intersection where the Pacific Ocean meets the tranquil Sea of Cortez.
Hotel del Coronado in San Diego, California: Set on one of America's most iconic beaches, the hotel provides a variety of unique and scenic fitness offerings, including complimentary sunrise and sunset yoga on the beach for overnight guests.
Private Prana at Hotel Valley Ho in Scottsdale, Arizona: Visitors can enjoy a private yoga session designed to restore body and mind by focusing on movement, mindfulness and prana. Various scenic and calming areas abound on the property, and guests can choose from a sunrise session on the Sky Line Rooftop to dusk downward dogs on the Palm Court, as well as indoor sessions. 
Rancho Bernardo Inn in San Diego, California: The Inn's 265 acres are a haven for tranquility and social distancing activities, including weekly sunset yoga sessions taking place in the serene Spa Garden. In partnership with local studio Mello Yoga, instructor Tessa will lead guests through a variety of stretches in a meditative flow class to regain balance and discover the power of rest, rejuvenation and restoration.
MacArthur Place Hotel & Spa in Sonoma, California: With the goal of creating a wellness offering for its past and future guests, MacArthur Place is offering a complimentary digital Yoga Session with Andrea Bogart for those in need of some mindfulness. Typically held in iconic Sonoma property's Coach House, everyone can tune in online here for the all-levels vinyasa yoga classes, which thread together a mindful flow linking breath to challenging poses, with an emphasis on intention, alignment, strength, balance and just letting go during this difficult time.
Monarch Beach Resort in Dana Point, California: Guests can soak up the sun throughout National Yoga Month by enjoying the resort's new Seaside Experiences, complimentary for overnight guests, including hatha, beach and flow yoga or yogalates during the day, as well as special yoga for sleep at night. 
Sugar Beach, A Viceroy Resort in Soufriere, St. Lucia: Set within more than 100 acres of pristine rainforest, this destination offers a variety of activities to create a wellness experience by the Caribbean Sea, including personal training sessions with private Sunrise + Sunset Yoga + Mat pilates that take place in private villas based on guests' fitness requirements and preferences.
Eden Roc Cap Cana in the Dominican Republic: With a big emphasis on wellness, the property has new outdoor programming including guided group yoga classes with beautiful ocean views. Additionally, the property features a dedicated 1,200-square-foot anti-gravity yoga area with 12 individual aero-yoga structures, where guests can choose from weekly classes or book a private experience. Guests can also enjoy a Wellness Morning, in which they'll start their day with a guided meditation and yoga experience followed by a silent breakfast.
The Shore Club in Turks & Caicos: The resort's Dune Spa contains extensive fitness facilities, Kids Club (complete with water activities) and complimentary bikes and water sports equipment. Daily yoga and Pilates classes are available from beginners to advanced and in keeping with social distancing protocols. Guests can enjoy a relaxing sun salutation on the beach or a challenging vinyasa in the air-conditioned comfort of the fitness center's classrooms.
Mission Point in Mackinac Island, Michigan: Overlooking Lake Huron, Mission Point is known for its Great Lawn, which is a favorite place to do yoga. Through a partnership with Great Turtle Kayak Tours, guests can now kayak around the sunrise side of Mackinac Island and create a custom itinerary, including on-the-water yoga. Mission Point's Sun-Up Sessions also allow guests to take in the sunrise over Lake Huron, starting with a hike and finishing off with yoga.
Halepuna Waikiki by Halekulani in Honolulu, Hawaii: Because travel to Waikiki is restricted at the moment,  this destination is offering at-home wellness tips so potential guests can experience #HawaiiFromHome. Wellness coach Kamala Skipper and director of spa and wellness Kamala Nayeli recommend practicing yoga daily in order to stay physically active while self-quarantining. "Yoga for You" will help strengthen the core in addition to the mind.
Great Wolf Lodge, with locations in Texas, California, Colorado and Washington: Great Wolf Lodge aims to promote healthy lifestyles and mindfulness with Yoga Tails, a fun and creative yoga class for parents and kids. Through playful and interactive videos, families can start their mornings off with Wiley and Friends as they take parents and little ones through step-by-step instructions, from the comfort of their own home.
HALCYON, a hotel in Cherry Creek in Denver, Colorado: Designed to reflect the active and adventurous spirit of the Colorado lifestyle, this property allows guests to wind down with Rooftop Yoga with Trusion. Participants will set their intentions for the week during the Monday classes, and the socially distant setting lets them take in the sunset surrounded by views of the Rockies and Denver skyline.
Rancho Valencia Resort & Spa in San Diego, California: This Mediterranean-inspired resort embraces the outdoors with its 45 acres of wide open spaces and has recently expanded its outdoor services and programming to include daily yoga classes set in nature.
Four Seasons Resort Lanai in Lanai City, Hawaii: A secluded 90,000-acre destination, this resort features Zen Horse Sunset Yoga, held on a dedicated platform in the middle of the expansive pastures as horses graze and gallop around.
Sensei Lanai, A Four Seasons Resort in Lanai City, Hawaii: Part of a partnership with well-being company Sensei, this property allows guests to expand their understanding of postures, breathwork and the subtle body with a private yoga tutorial.
Gravity Haus in Breckenridge, Colorado: The boutique hotel seeks to help guests reset their minds and bodies, and breathe through daily stressors. To that end, it has has partnered with Bhava Yoga, the area's only ski-in, ski-out yoga studio, and its second location (Vail Haus in Vail, Colorado) has partnered with The Vail Athletic Club to offer members access to both studios' extensive yoga programs and teacher trainings. Additionally, Gravity Haus' partnership with Colorado Adventure Guides allows guests to practice stand-up paddle board yoga, where they can challenge both their minds and bodies while surrounded by beautiful mountain views.