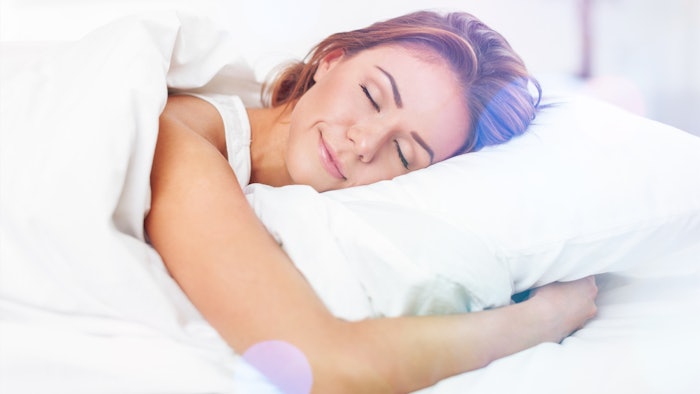 Among the many changes that 2020 brought to daily life, sleeplessness has been one of the more prevalent and unwelcome developments. According to Neurology Today, sleep disorders have been on the rise this year, with doctors using the term "COVID-somnia."
"Luxury hoteliers such as Fairmont have long been aware that adequate sleep is vital to emotional regulation, immune system strength and overall well-being," said Sharon Cohen, vice president of Fairmont Hotels & Resorts. "We know the difference a great night's sleep can make, and so we encourage our guests, fans and followers to indulge in some stay-at-home versions of our signature sleep amenities and beddings that we use at our hotels."
Experts at Fairmont shared their top four tips for getting a good nights sleep.
1. Create a Bedtime Ritual
Bedtime routines are not just for kids. A calming flow of rituals can work equally well for sending adults off to sleep. "Turning off the devices to properly wind down before bed is an important signal for the body to prepare for shut-eye," advises Montreal's Fairmont The Queen Elizabeth housekeeping director, Marie-Hélène David.
Blue light from digital devices can trick the body into feelings of wakefulness. A report from Harvard University medical school recommends removing digital devices and televisions from home bedrooms for a more restful night. A warm shower or bath helps regulate the body's temperature and supports natural circadian rhythms.
"It's important to clear the mind of worries and pressures before sleep," adds Irma Tuyub, director of housekeeping at Fairmont Mayakoba. "We give our guests tiny worry-keeper dolls—a beloved Mayan tradition for encouraging a peaceful night." Meditation can also help to release anxious feelings, along with jotting down thoughts in a bedside journal.
2. Engage All Five Senses
"At Fairmont, our guestroom and sleep experience is designed to appeal to all the senses, for a rich and holistic experience of well-being," says Fairmont Miramar Hotel & Bungalows director of housekeeping, Dayna Chacon. An elegant and well-ordered room filled with little luxuries such as fresh flowers, a carafe of filtered water and soft music can go a long way to preparing one's mindset for a restful sleep.
Scent. Calming scents such as lavender have been found to reduce blood pressure and encourage sleepiness.
Sound. Fairmont Vancouver Airport cancels out distracting noise with Sound Therapy (a bedside system with sound modes such as meditation, ocean and guided breath). "The sound of slow beats or low-volume music can be comforting," says Gisela Joseph, executive housekeeper at Fairmont Jakarta. "For those who need total quiet to sleep, a good set of ear plugs can be a saving grace."
Sight. The visual cue of an elegantly made bed can turn thoughts toward sleep, suggests Nicole Stewart, director of housekeeping at Toronto's Fairmont Royal York. "Arrange the bedding so it looks as cozy and inviting as it would at a hotel." Blackout curtains support a deep sleep, and color light therapy can simulate the body's circadian wavelengths to encourage biological responses that improve sleep, energy and mood.
Touch. Loosening the muscles not only relaxes the body for sleep, it can lead to a more limber morning. Aubrey Ada, director of rooms at Fairmont Makati, suggests using a lavender- or sandalwood-infused massage oil. "The aromatic mixture can be gently kneaded into areas that are overworked during the day, such as the back, neck and soles of feet."
Taste. Chamomile tea is known for its calming properties, while a small bite of protein, dairy and even a taste of chocolate can boost serotonin and melatonin levels to encourage sleep.
3. Refresh Your Room
At home, it might take a little more effort to keep rooms clean, but during times of stress, sleeping in clean, healthy surroundings is more important than ever.
Keep it fresh. Hotel guests are usually out and about during the day, getting exposure to sunshine, which supports natural circadian rhythms. At home, sun and outdoor air are equally important. "Let sunlight into your room and open doors and windows to circulate air," says Janice Allman, executive housekeeper at Fairmont Royal Pavilion in Barbados.
Keep it clean. Gisela Joseph at Fairmont Jakarta believes an organized room, free of clutter, dust mites and sinus-irritating allergens, can make sleep sweeter. "Even a very humble bedroom can feel serene and luxurious," says Gisela. "Make time to disinfect, mop, sanitize linens and use a UV vacuum to fight germs and viruses."
Keep it cool. "In our experience, the ideal room temperature for sleep is between 60 and 67 degrees Fahrenheit," advises Akshay Kamboj, director of housekeeping at Fairmont Waterfront in Vancouver. If that feels too cool, swap out linens with cozy flannel sheets or a weighted blanket to calm the nervous system.
4. Invest in Your Nest
Fairmont partners with Stearns & Foster and Sealy Posturepedic for mattresses that deliver opulent comfort, and the Fairmont experts agree that the same concept should be carried out at home. "It's important to choose a mattress with the appropriate firmness for your body type and sleep style," says Fairmont Singapore director of housekeeping, Terry Wu. "A mattress that is too soft can lead to backaches."
"The best sleep starts by slipping into sheets fit for royalty," adds Ian Fraser, assistant director of rooms at Fairmont Jasper Park Lodge.
Although it's common to switch between heavier and lighter weight blankets as the seasons change, Fairmont's experts suggest a lightweight duvet designed to add the right amount of warmth year-round, ideally made with down and feathers as well as hypoallergenic synthetic choices.