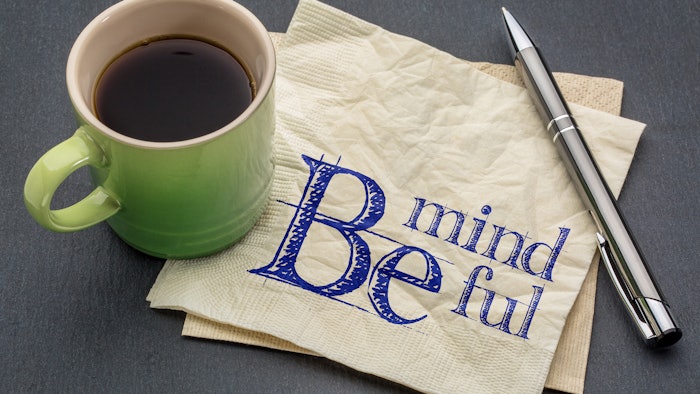 There's nothing like a mindful practice to get you—and your clients—ready and refreshed for the new year. Dana Childs, an energy healer and teacher, provides her go-to tips and tricks to jumpstart spiritual, emotional and physical wellness. Childs' favorite mindful practices can be completed in as little as 10 minutes, or stretched out for a whole blissful hour. Here are her top steps for being mindful throughout the day.
1. Be Conscious
Start the day consciously as soon as you wake up. Place one hand over your belly and close your eyes. Allow your abdomen to rise on your inhale and fall on your exhale. Do 10 or more deep breaths, which will allow your nervous system to reset and relax.
2. Set an Intention
Follow your mindful breathing by setting an intention for the day. Is it to stay calm? Make healthy food choices? Engage in conscious conversation?
3. Ground Yourself
Once you're at work—be it at home, in an office or at the spa—make time to dial back into your intention and take a few more deep belly breaths. If you can, ground your energy in your workspace with a beautiful hematite stone or a raw garnet—grounded, raw, powerful energy.
4. Disconnect
After work, spend at least one minute disconnecting from the energy of business. Close your eyes and simply ask that your energy be present with you and no longer in your work.
5. Meditate
At some point before bedtime, light a softly scented white candle, turn on ambient music, close your eyes and slip into a meditation. Simply observe your thoughts, letting each one float away from you as soon as it comes in. Now, you're ready for a luxurious and restful slumber. Sweet dreams.
About Dana Childs: Dana Childs is an intuitive, energy healer and teacher with a degree in psychology and a master's in leadership and education. She works with energy and emotions to help clients identify and heal patterns that block connection with their most authentic self. Childs combines her knowledge with her intuition to help individuals balance mind, body, soul and relationships, delivering grounded spirituality with heart, humor and unabashed truth through private healing sessions, workshops, consultations, online courses and retreats.