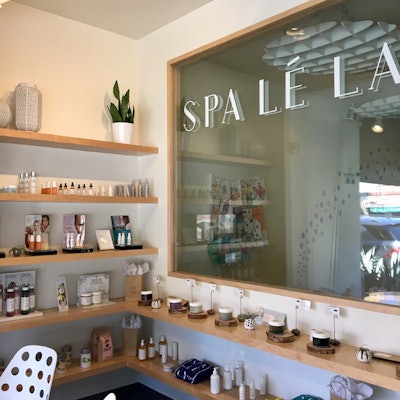 Founded February, 2017, by skincare expert Trina Belton after having her daughter, Spa Lé La sits on trendy Tujunga Blvd. in Studio City, California, amidst fun shopping and tasty eateries. The spa's main goal? Catering to parents' self-care and relaxation (aptly, its tagline is "While the Little Ones Play, You Get Away"). And Spa Lé La certainly accomplishes that feat, offering "simple pleasures" that new parents often miss—such as bubble baths and naps—alongside a range of facials, pre- and postpartum massages, and nail care. But what truly makes this place unique is its complimentary child care: a sound-proof Kids Corner, complete with games, toys and books for all ages, which keeps the (supervised) little ones busy while mom and dad enjoy a little "me time."
Although I'm currently child-free, I live in the neighborhood and was eager to experience some Spa Lé La offerings—so I scheduled a Sunday morning visit. I was greeted by spa director Aimee Levi, who offered me a refreshing iced jasmine tea (from Tea Forte) while explaining the spa's interesting concept. In the spirit of sampling its simple, express offerings, I selected two of the so-called "retreat services": the infrared sauna session followed by 25 minutes in the massage throne.
RELATED: My First Botox Experience at Blue Medi Spa
The infrared sauna boasts a range of benefits, including pain and stress relief, detoxification and boosted circulation—and also claims to burn a few calories. There's even some evidence that it can help soothe rosacea symptoms; as someone with that particular skin condition, I was more than a little intrigued! I was led to sauna room, where I was presented with a robe, wrap, booties, plus a washcloth, hair towel and ice water for the actual session. Once I'd changed into the wrap and stepped into the sauna, I knew I had made the right choice; the heat instantly conjured a state of bliss, and I was able to meditate, relax and sweat away all my woes!
RELATED: My First HydraFacial at Illuminate Face & Body Bar
Then it was time to towel off, don my robe and head to the massage throne. An attendant helped me settle in, covered me with a soft blanket and programmed the chair, which started by measuring and adjusting to my size before inflating with air to compress my muscles. The zero-gravity throne also features decadent foot rollers designed to stimulate acupuncture points for ultimate relaxation. I had gone on a four-mile hike the day before, so my sore muscles welcomed this respite—especially the (divine!) calf squeeze.
Finally, the services complete, I emerged feeling physically relaxed and mentally energized. My previously tight and aching muscles were now loose and pain-free. One thing was certain: I was feeling ready to take on the week ahead!
—by Laura Waldon
---