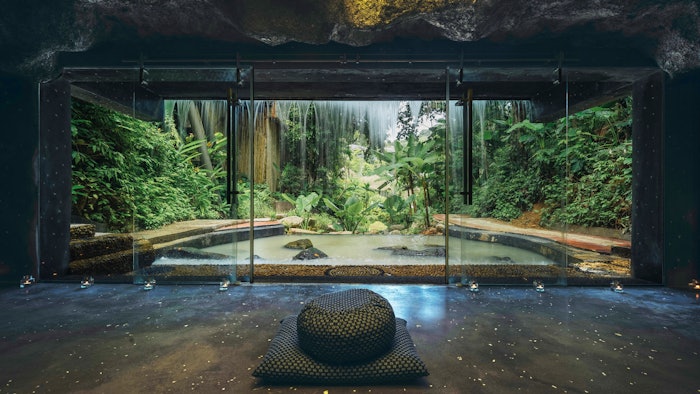 Courtesy of Keemala
Ecotourism and wellness can intersect in unique ways, helping consumers travel sustainably while harmonizing the body, mind and soul. Here are four properties focusing on sustainability as it relates to guests' well-being. 
Thailand
Zeavola Resort on Phi Phi Island brings local natural elements into the spa's wellness treatments, influenced by Thai, Chinese, European and Polynesian techniques. Aromatherapy oils and organic fruits, plants and herbs are used to promote well-being and provide a deep sense of relaxation, and the Zeavola team believes that the restorative effects of nature combined with therapeutic spa treatments are key to enhancing clients' well-being.
The Keemala Hotel, located in the forests of Kamala on the Phuket peninsula, offers Holistic Living Retreats that include pampering massages, healing treatments, yoga, meditation, Tai Chi and daily spa cuisine. In addition, the hotel's Mala Spa provides traditional and holistic modalities that incorporate elements of the sea, earth, fire, air and ether.
Indonesia
Guests at the West Balinese Puri Dajuma Cottages & Spa can enjoy daily Hatha yoga classes and regular yoga retreats. Lola Spa at Puri Dajuma has two indoor massage rooms, two outdoor massage pavilions, a jacuzzi, a hammam, beauty salon, shower and a relaxation area. Beauty treatments are made from 100% natural ingredients, based on recipes that have been passed down from mother to daughter for generations and are made from essential oils and ingredients such as coconut oil, jungle honey, lemon, cucumber and banana.
Nepal
The Pavilions Himalayas Resort, located on Lake Phewa, has luxurious, eco-friendly villas, offering the opportunity for authentic cultural and active adventures. The resort features natural wellness products sourced from the surrounding region and manufactured locally, and getaways of up to four days are filled with yoga, healthy food, relaxation and lots of connecting with nature.