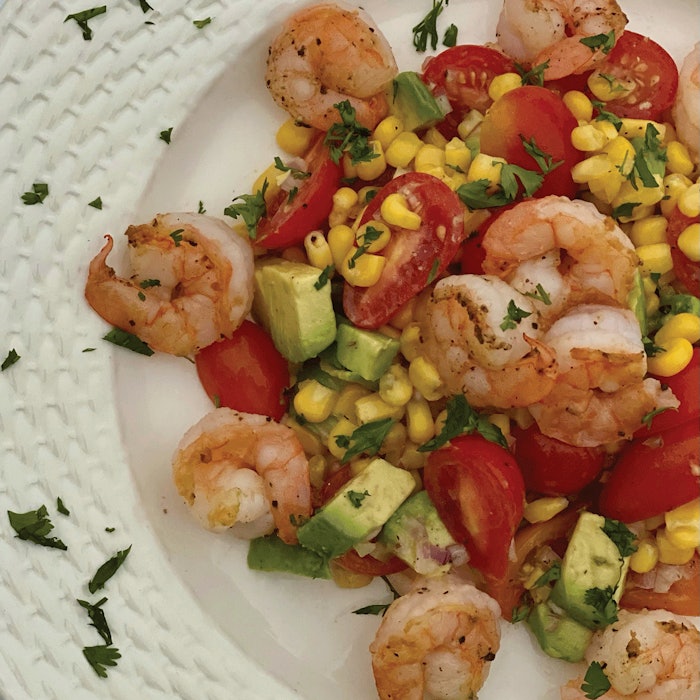 There's something about a cool, fresh salad that feels, well, refreshing at the height of summer. This Lime Shrimp & Avocado Salad, created by Deborah Malkoff-Cohen, registered dietitian, certified dietitian nutritionist and certified diabetes educator, fits the bill perfectly. "I love the way the tart lime plays off the sweetness of the fresh corn, and the avocado adds a creamy decadent note," says Malkoff-Cohen. "Plus corn, tomatoes and limes are in season during summer."
The dish works as a side at a barbecue just as easily as it can function as a tasty and nutritious midday meal, thanks to the heart-healthy avocado and protein-packed shrimp. "Let's talk nutrition. This recipe makes four servings; each serving contains about 8 grams of fat (mostly monounsaturated fat), 13.5 grams of carbs, 3.6 grams of fiber and 17 grams of protein. All of this for under 200 calories!" enthuses Malkoff-Cohen, adding that the shrimp are a great, low-calorie protein and that the avocado, corn and tomatoes provide just 10 grams of net carbs.
Indeed, it seems you can't go wrong with a mix of wild seafood and in-season produce, and this light, healthy and delicious salad will keep energy levels high and temperaments cool all summer long.
Continue Reading the Digital Magazine for the Lime, Shrimp & Avocado Salad recipe...