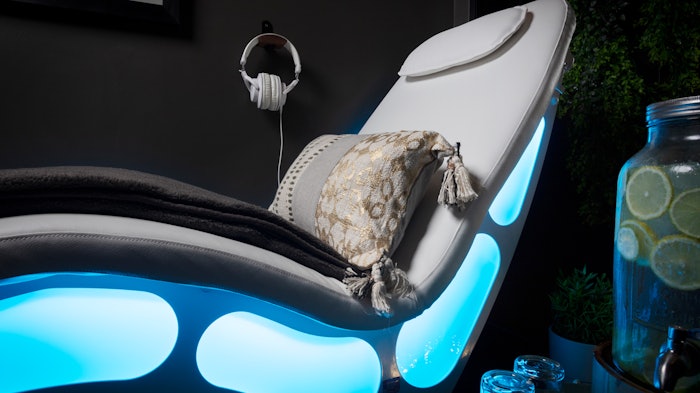 Photo courtesy of Kimpton Charlotte Square Hotel.
The first ever sound wellness room, "Swell Room" has opened in the UK at the Kimpton Charlotte Square Hotel, according to an article by The NEN - North Edinburgh News. 
Brian D'Souza, an award winning producer, has developed a methodology that uses the therapeutic nature of sound. The Swell Room combines biophilia, music composition and sound therapy into one wellness experience. 
D'Souza created the sound wellness composition through recording in locations like the Hebrides, Lake Geneva, Cape Verde and more. The sounds of the sea, fields and natural wildlife were recorded and combined with traditional sound treatment instruments like gongs, singing bowls, violins, the Gaelic harp, bagpipes and vocalists. 
Related: Vicoustic's New VicBooth Spa is a Soundproof, Sustainable Treatment Room
Guests are invited to enjoy tailored therapeutic sound techniques that lower the heart rate, blood pressure and stress. The therapy also promotes biochemical responses that bring equilibrium to the sympathetic and parasympathetic nervous system. 
"Whether it brings people together and takes them to a euphoric state at a festival or keeps the drinks flowing in a bar; or it works to reduce heart rate and create a sense of calm – it has a direct correlation with our mood. So, to create The Swell Room, in collaboration with Kimpton Charlotte Square, is a real privilege," said D'Souza. 
The Swell Room's sound wellness treatment can be offered as an add-on to existing treatment menu items at the Spa at Charlotte Square, or can be booked as a stand-alone service.