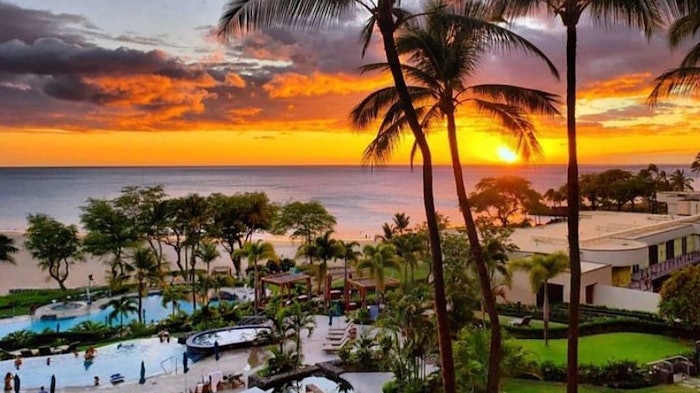 Courtesy of @westinhapuna
The Mauna Kea Resort on the Kohala Coast on the Island in Hawaii has launched its "Journeys" spa treatments, which are inspired by international wellness practices and ancient healing traditions around the world.
The resort' two spas—The Mauna Kea Spa by Mandara at Mauna Kea Beach Hotel and the Hapuna Spa by Mandara at The Westin Hapuna Beach Resort—provide these customizable, head-to-toe offerings with the intention of transporting the mind, body and spirit to destinations around the world.
Treatments and experiences at The Mauna Kea Spa by Mandara include:
Asian Journey (Air/Enliven): Includes a Balinese Massage, Mandara Signature Facial, Mandara Coffee and Coconut Milk Body Polish, Breathing Release, Asian Bathing Ritual and a Mandara Ritual for the hands and feet.
Indian Journey (Fire/Replenish): Fire & Ice Massage, Biotec Skin surfacer Facial, Exotic Lime and Ginger Salt Grow, Myofascial Release, Indian Bathing Ritual, Fire & Ice Manicure and Pedicure.
Mediterranean Journey (Water/Release): Mandara Customized Massage, Biotec Line Eraser Facial, Citrus Body Gloss, Sound Wave Therapy, Mediterranean Bathing Ritual, Classic Spa Manicure and Pedicure.
New World Journey (Earth/Embrace): Coconut Poultice Massage, Biotec Firm-a-Lift Facial, Exotic Frangipani Monoi Salt Glow, Acupressure, New World Bathing Ritual, CND Shellac Manicure and Pedicure.
Treatments and experiences at Hapuna Spa by Mandara include:
Balinese Massage: Utilized for centuries to strengthen and heal the body, this traditional therapy combines stretching, long strokes and palm and thumb pressure techniques. Flowing and graceful, the Balinese massage relieves tension, improves blood flow, eases stress and encourages harmony.
Tropical Hawaiian Body Scrub: Guests can enjoy the exfoliating benefits of Hawaii's natural resources complete with an application of tropical body lotion, foot and scalp massage. They may choose from Pa'akai (Salt) Glow, Island Coffee, Chocolate Macadamia Nut or Coconut.
Sound Wave Therapy: Drawing from traditional European and ancient Indian healing techniques, this treatment lulls the mind and body to a meditative state. It begins and ends with a beautiful shower of peaceful sound wave vibrations to promote total relaxation and realign the chakras.