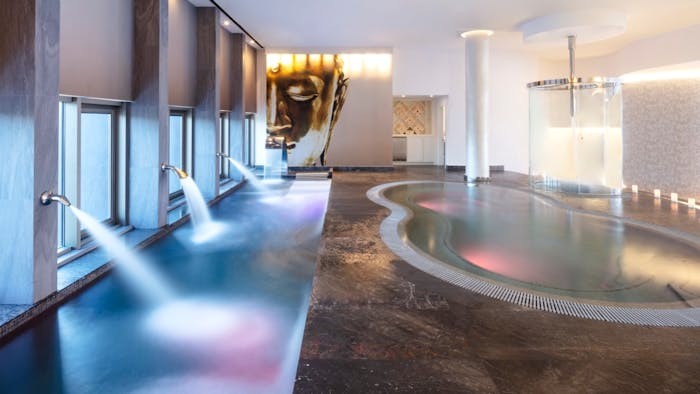 Courtesy of Garza Blanca Resort & Spa Los Cabos Resort
Start this year with new treatment offerings for your clientele and help them focus and relax for what awaits them.
Check out these three wellness offerings:
1. Hydrotherapy Circuit
Spa Imagine at Garza Blanca Resort & Spa Los Cabos Resort provides holistic treatments that utilize natural elements, inspired by the seven chakras. TheHydrotherapy Circuit presents guests with an immersive experience that prepares the skin and body for treatment. The Marble Steam Room allows guests to experience water in its vapor form, known to aid in lowering blood pressure, clearing congestion throughout the body and reducing stress; the Warm Water Vitality Pool captures the therapeutic power of water in its liquid form through rejuvenating mini-massage stations, each focusing on a different area of the body. Finally, the energizing Ice-Cold Plunge Pool invigorates and revitalizes with a quick shock to the senses.
2. Sound Therapy Facial
The Lemon & Honey Day Spa, a boutique luxury day spa, has added the "Ohm" Facial Treatment, which some have likened to a "sound bath for your face." Specially trained by an expert sound guru, Lemon & Honey's estheticians use tuning forks and Tibetan singing bowls in combination with a facial customized for each guest's skin type, leaving them in a deep rested state. Sound therapy can also enable a higher level of mental clarity and increase blood flow. 
3. Taking Care of Us
Hotel Wailea, Maui, Hawaii's only adults-only and Relais & Chateaux property, has launched its "Taking Care of Us" experience, which helps couples find their balance both together and individually. The customizable journey includes a guided mindfulness Hawaiian nature stroll, a couples heart-to-heart cacao and sound bath ceremony, aerial silks yoga, private dinner and a two-hour paradise retreat massage.