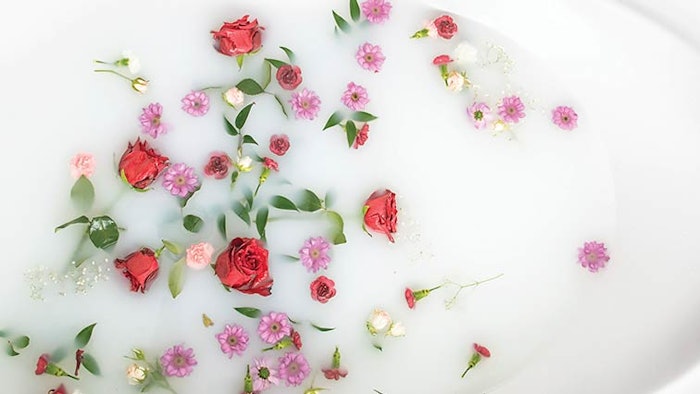 Goat's milk has been used in cosmetics and soaps for thousands of years, so it's no surprise that it is often incorporated into spa treatments to keep guests' skin moisturized, soft and smooth without causing inflammation. Skin care containing goat's milk is also recommended by dermatologists all over the country to help treat psoriasis, eczema, acne, athlete's foot, itchy skin and other conditions.
This ingredient is common in formulas for soaps, lotions and balms, which are creamy and often delicately scented with a combination of indulgent and functional essential oils like lavender, eucalyptus and rose. However non-scented versions are often preferred for sensitive skin.
Body Benefits
Goat's milk continues to generate buzz because it improves the look and feel of dry, flaky skin, and it's especially effective for sensitive skin. It feeds and nourishes the microbiome, so it calms troubled complexions and helps balance other skin conditions.
There are numerous benefits when goat's milk is applied topically. It soothes, gently exfoliates, hydrates and moisturizes, healing the skin while reducing inflammation. It contains potassium, zinc, selenium and moisturizing fatty acids that support and repair the skin barrier.
Continue Reading our Digital Magazine for everything you need to know about the use of goat milk in the spa and wellness industry...
Nancy Trent is a writer, speaker, lifelong wellness activist, globe-trotting trend watcher and founder and president of wellness PR firm Trent & Company. A former journalist for New York Magazine, Trent has written seven books on healthy lifestyles and travels the world speaking about trends at conferences and trade shows. She is a recognized expert in PR, with more than 30 years of experience creating and managing highly successful campaigns.