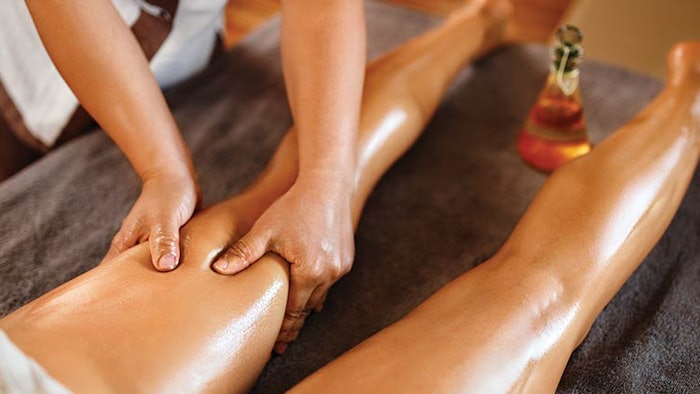 Body treatments continue to soar in popularity, with consumers seeking to address both the shape of their physiques and the look of their skin from the neck down. With that in mind, these protocols specifically target cellulite for smoother, more youthful-looking skin.
Smooth Me Out Body Treatment
(30-60 min./$115-$165)
Osmosis Beauty
1. Using a dry brush, firmly brush the body in an upward motion to immediately improve blood flow to the area and begin the exfoliation process.
2. Gently cleanse the treatment area with 1-2 pumps of Cleanse. Remove with steamed towels.
3. Apply 1-2 pumps of Polish and 1 pump of Infuse to the treatment area; work into skin for 3-5 minutes. Apply warm towel and allow to rest until skin is lukewarm in temperature. Remove with moderate pressure until skin is free from remaining product residue.
4. Apply 1-2 pumps of Stemfactor and massage evenly into the area of treatment. Using the Epic Skin Tool, gently roll in an upward motion as hundreds of mini-pyramids penetrate Stemfactor into skin, just beyond the lipid barrier. You may roll up to 3 times in any given area.
5. Apply 1 dropper full of Nourish to the treatment area. Gently massage into skin.
6. Using the Rose Quartz Gua Sha massage tool, perform massage to the given area. Apply slow, consistent pressure in an upward motion throughout the treatment to clear out inflammation. Using long strokes in your treatment will assist the immune and lymphatic system to function properly.
7. Generously apply Rejuvenating Body Cream to the area of treatment. Refresh client with an 8 oz. glass of water with a lemon slice. For best results, client should drink at least 10 glasses of water within the 24 hours after treatment.
8. Discuss home care with your client. For best results, client should perform regular dry brushing at home. Daily use of Rejuvenating Body Cream will improve tone and elasticity, while Regenerate (Collagen Renewal Supplement) will help to firm and erase the visible signs of aging.
Continue reading our digital magazine for more protocols from...
EMTONE Protocol - BTL Aesthetics
La Pausa Treatment Protocol - K'Alma Spa at Cadillac Hotel & Beach Club
TempSure Envi Treatment Protocol - Cynosure
Stem Cells Phyto-Elite Intensive Body Contouring Wrap - Pevonia
A Walk in the Forest ft. Aroma-Sculptant Massage - Yon-Ka Paris