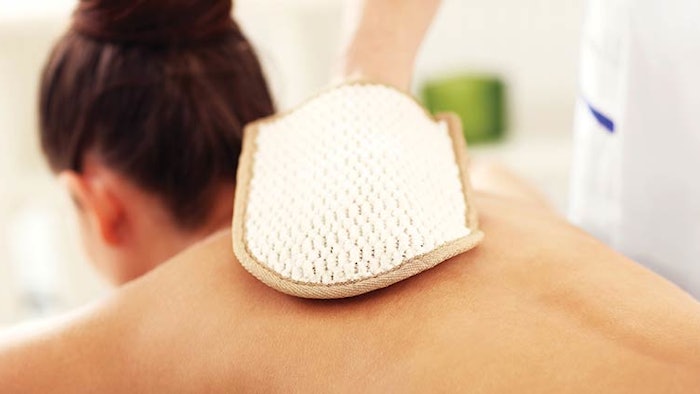 Why do we exfoliate? Exfoliation removes dead skin cells, therefore benefiting the skin and body by preventing clogged pores, boosting circulation, evening out tone and texture and, in the long term, increasing collagen production to fight signs of aging. The most common over-the-counter materials include cleansing scrubs, exfoliating mitts, dry brushes, loofahs, pumice stones and microneedling tools. In the spa, professionals can administer chemical peels, dermaplaning and microdermabrasion, as well.
Exfoliation is important because dead skin cells cannot hold moisture or receive any nutrients from skin care services. Removing this top layer of dead cells allows the body's new, shiny skin to absorb nutrients and moisture more quickly and effectively. There are three main ways to accomplish this: physical, chemical and enzymatic exfoliation. Giving your clients guidelines for the ideal products and treatments for them will ultimately set them on the path to the right professional and at-home routines, as well as the best results.
IN-SPA PROTOCOLS
In the treatment room, I prefer to administer chemical exfoliation—I'm fascinated by it! Chemical exfoliants use different ingredients to dissolve dead skin cells. My favorite options are alpha hydroxy acid (AHA) chemical peels because they're water soluble, meaning they can't penetrate super deep into the pores, which is great for people with dry skin. For clients who have more oily or acne-prone skin, then beta hydroxy acid (BHA) exfoliants are the way to go. They're oil-soluble, so they can go much deeper into the pores. Depending on a client's cycle, lifestyle and diet, a combination of AHAs and BHAs is a great place to start.
Continue reading our Digital Magazine for more in-spa protocols and at home routines...
Stevie White, spa director of the renowned CIVANA Wellness Resort & Spa, has more than 10 years of hands-on, results-driven experience in the industry. White previously worked at Joya Spa at Omni Scottsdale Resort & Spa at Montelucia for 11 years, achieving numerous "Best Spa" awards. A well-balanced leader who is passionate about community outreach, she also enjoys spending time with her family, hiking and restorative yoga.