Facial
products and protocols that help reverse the signs of aging are getting more advanced and effective every day—and many promise even more impressive results, not to mention fewer undesirable side effects, than injections or even surgery. "Unlike cosmetic procedures, which often only tackle one problem area, facials can combat all of the signs of aging—without the risk of downtime or serious complications," explains LoAnn Lai, owner of
Salon L'eau
in Washington, D.C. Ready to offer your guests the best of the youth-boosting best? Here, five spas share their top antiaging offerings.
Collagen Facial (90 min./$135) Le Beau Salon & Spa Ventura, California.
This hydrating service delivers a "mini facelift," sans surgery. After a thorough cleanse and exfoliation, the client receives an antiaging face massage, followed by an application of several Saian products: First is the Hyaluronic Acid (HA) Ampoule. Next, a dry collagen mask is placed over the face and activated using water and Pure Collagen Elastin Spray. The esthetician then glides the Gem Pro, a handheld device that produces galvanic currents, over the mask, which remains on the skin for another 10 minutes while the client receives a neck and shoulder massage. The service concludes with an application of a collagen serum, HA serum and leave-on mask, followed by a gentle massage using Saian Jelly Globes to close the pores, tighten the muscles and reduce redness.
Antiaging All-Stars: "The Pure Collagen Sheet Mask soothes redness, smooths texture and firms the skin," says esthetician Cheryl Ruiz. Additionally, the galvanic current tones the face, diminishes fine lines and stimulates collagen production.
Why Clients Love It: "After receiving the treatment, guests have a noticeably firmer, smoother and lifted appearance as well as a brighter eye area," notes Ruiz. "What's more, they thoroughly enjoy the sheet mask— it makes them feel like they're in a cocoon!"
RELATED: Tea Tree Oil Is Ideal for Rescuing and Beautifying Spa-Goers' Skin
Murad Retinol Dual-Phase Power Peel Facial (60 min./$160) Gould's Salon Spa Locations in Collierville, Cordova, Germantown and Memphis, Tennessee, and Olive Branch, Mississippi.
This powerful facial packs a one-two punch. The treatment begins with a thorough cleanse, followed by Murad Prepping Solution. Next, the brand's Infusion Treatment is applied to the face, neck and chest, and then an alpha hydroxy acid (AHA) peel is administered. After 10 minutes, the peel is removed and Youth Builder Massage Cream is rubbed into the skin, along with the application of either the Hydrating Gel Mask or Firming Treatment Mask. The facial concludes with Murad Wrinkle Solution Professional Concentrate and a moisturizing sunscreen.
Antiaging All-Stars: "Retinol, a form of vitamin A that your skin naturally uses in regeneration and repair, visibly diminishes fine lines, increases firmness, improves uneven skin tone and refines texture," notes Rosalyn Hisky, lead esthetician at the Collierville location. The service also enlists the help of glycolic, lactic and salicylic acids to remove dead skin cells and boost radiance.
Why Clients Love It: This innovative treatment offers instant gratification. "The guest's skin immediately experiences cell turnover and starts to glow," enthuses Hisky. "Plus, with at-home care, results can last for weeks!"
Anti Aging/Age Summum (60 min./$155) Salon L'Eau Washington, D.C.
Designed to firm and brighten the skin, this fast-acting facial continues working after the guest leaves the treatment room. Following a thorough cleanse and exfoliating dermabrasion, Guinot's antiaging serum is mixed with pure vitamin C and gently applied. The esthetician then performs a 15-step massage using Guinot Modelage Age Summum to re-contour the face, followed by the application of a micro- lifting mask, which is left on for 10 minutes. Finally, a moisturizer, eye cream and SPF, based upon the client's skin type, are layered on.
Antiaging All-Stars: "The Guinot Sérum Age Summum contains a blend of 56 active biological ingredients that promote cell production, while the vitamin C tightens and brightens the complexion," says Lai. The facial also relies on a combination of peptides, HA and collagen to plump the skin.
Why Clients Love It: From dullness to uneven texture to fine lines, every aging concern is addressed with this multifaceted treatment. "After one session, the skin feels hydrated and firm," promises Lai. "The products are layered so that they will continue to penetrate long after the facial ends."
RELATED: Everything You Need to Know About Essential Oils
G.M. Collin Botinol: Signature Anti-Aging Treatment (90 min./$168) Archbeauty Skin Care Salon & Boutique Middletown, Rhode Island.
Ideal for clients seeking an alternative (or complement) to fillers or other cosmetic injections, this retinol- based facial diminishes fine lines and tones the skin. The treatment begins with a light steam and deep clean, followed by a clinical peel or enzyme exfoliant. Next, G.M. Collin Botinol Serum is applied to visible lines using a syringe. "We massage the serum in with gentle pinching movements to ensure that it penetrates," explains Archbeauty owner Sara Ross. After an invigorating face massage, an algae pellicle is placed over the skin and saturated with an activating lotion. The pellicle is then covered with a thermic sheet for 30 minutes, while the client receives a foot, leg and arm massage. Once the pellicle is removed, any remaining product is rubbed into the skin, followed by a corrective cream.
Antiaging All-Stars: "The Botinol serum contains Argireline and Myoxinol, two peptides that work together to minimize muscle contractions and, in
turn, the appearance of expression lines," notes Ross. Additionally, the combination of the algae pellicle and the HA in the Botinol Activating Lotion help nourish and rejuvenate the skin.
Why Clients Love It: The treatment soothes, hydrates and tones without any downtime. Another bonus? "This facial can be used in conjunction with injections or fillers to help the results last longer," points out Ross.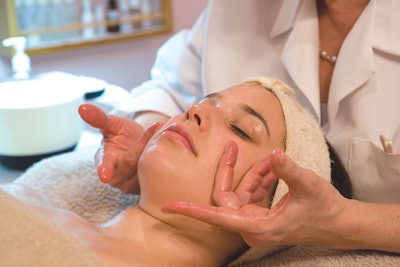 DermAware Holiday Champagne Peel (60 min./$141) Skin & Tonic Raleigh, North Carolina.
Nothing beats a little bubbly during the holiday season—especially when it results in a youthful glow. This indulgent service begins with a cleanse and exfoliation, followed by the application of the DermAware Cellzyme Mask. Next, the brand's Holiday Champagne Peel is left on the face for 5 to 10 minutes. After the peel is removed, the Holiday Cranberry Mask is applied, and the client receives a gentle face massage. Finally, a series of microgels, hydrogels and a leave-on mask are layered on to lock in hydration.
Antiaging All-Stars: "The tartaric, citric, lactic and malic acids found in the peel soften fine lines and allow for better product penetration," says Skin & Tonic co-owner Robin Deresh. Other standout ingredients include the retinol in the VITal A Microgel, the rose-infused HA and vitamin B in the VITal B Hydrogel, and the ascorbic acid and glutathione in the Pure C Glow Microgel—all of which work together to brighten, plump and tone.
Why Clients Love It: This treatment delivers instant radiance and a noticeably firmer face. "Clients often comment on the smoothness of their skin, the improved tone and the products' aromas," says Deresh. "During the holiday season, they love changing up their regular peels with this sensory experience."
–by Taylor Foley
In an era of blurring foundations, Instagram filters and Photoshop, the quest for smooth, flawless, younger-looking skin remains in full force. The good news?