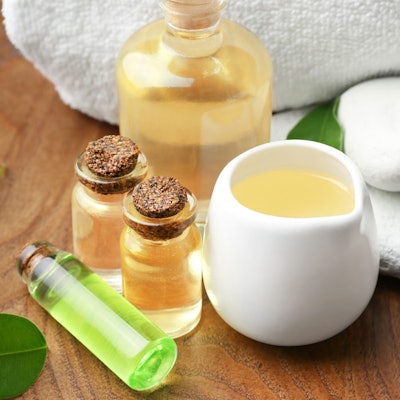 The name "tea tree" is said to have been coined by explorer Captain James Cook in the 18th century after he brewed leaves from a Melaleuca alternifolia tree to create a spicy and refreshing drink. Native to the subtropical regions of New South Wales and Queensland, Australia, tea tree is a powerhouse essential oil extracted via steam distillation and regarded for its antiseptic, antibacterial, antifungal, anti-inflammatory and antiviral properties. For centuries, people in "the land Down Under" were believed to have applied it topically to help heal wounds and skin infections, and even inhaled crushed leaves to combat respiratory issues. In fact, its strong, spicy scent is in the aromatic family of eucalyptus—hence, tea tree boasts similar respiration and immunity-boosting benefits. There are 300 different varieties of the plant, but Melaleuca alternifolia is associated most commonly with the tea tree used for aromatherapy and skin care, making it a staple in many spa spaces.
Why It's a Skincare All-Star
Thanks to tea tree's cleansing, disinfecting and soothing properties, people have been using it for more than 70 years to treat skin concerns from head to toe, including acne, blisters, burns and dandruff. It has even been considered as a possible alternative to benzoyl peroxide for addressing blemishes without causing dryness and irritation. "Tea tree—along with many other well-manufactured essential oils—is antimicrobial and antibacterial, and its medicinal uses make it appropriate for topically treating acne," says Lori Nestore, co-president of Tu'el Skincare. "Its popularity comes and goes because there is a common misconception among spa technicians about how to use tea tree. No essential oils should be applied directly to the skin regularly. However, when used in proper dilutions, tea tree oil can be an ideal healing ingredient to address breakouts."
RELATED: Everything You Need to Know About Essential Oils
In the Treatment Room
At Skin by Marywynn in Portland, Oregon, tea tree factors into several steps of the spa's customized facials (60-90 min./$125-$200), particularly for clients battling blemishes or allergies. Depending on their needs, owner Marywynn Ryan will use an array of tea tree- infused products, including Tu'el Detox Essential Oil. Ryan adds the oil to a steamer for aromatherapy, incorporates it under (or mixed with) a mask, applies it prior to the moisturizer and uses it during the scalp massage. "Allergy sufferers are thrilled that they can breathe through their noses again, and that sinus headaches are diminished," reports Ryan. "Clients with acne also say that they feel a cooling sensation and have less inflammation."
In Randolph, New Jersey, Salus Per Aquam Spa includes tea tree throughout its Anti-Acne Facial (60 min./$130), a purifying treatment that starts with a skin analysis, cleanse and exfoliation with an AHA scrub under steam. In addition to an enzyme peel, extractions, mask and galvanic current, estheticians employ the detoxifying, healing and hydrating Shira Esthetics Shir-Organic Eucalyptus Tea Tree Moisturizer both before the mask application and as the final moisturizer. "The tea tree helps kill acne-causing bacteria, controls sebum production and heals blemishes," explains Monica Gaston, Salus Per Aquam Spa owner and therapist. "It does this by penetrating the skin to unblock sebaceous glands, disinfect pores and 'dry out' whiteheads, blackheads and pimples."
Patrizia Piscopo, lead esthetician at Terre de Beaute in Allentown, Pennsylvania, believes tea tree is an ideal component in any skin renewing service, as it gently exfoliates and encourages cell renewal. The spa's Deep Pore Treatment (60 min./from $100) begins with a thorough cleanse followed by the GlyMed Plus Serious Action Masque, which contains tea tree, clay and exfoliating acids. "The mask purges impurities from deep within the pores, dramatically reducing oil and healing acne," says Piscopo. Extractions are then performed (if necessary), and the skin is treated to a clarifying cream, moisturizer and sunscreen. "Clients notice a dramatic reduction of redness and irritation, and they often comment that their skin feels calm and refreshed after the facial," she reports.
RELATED: Spa Pros Shed Light on the Benefits of Using Aromatherapy
Tea Tree Products
Quick Facts
Australians often refer to tea tree as a "first-aid kit in a bottle."
Once distilled, its leaves produce a pale yellow or colorless oil that has a strong camphor-like odor with spicy, medicinal notes.
Tea tree oil can be used to relieve athlete's foot, toenail fungus and foot odor, and as a natural hand sanitizer.
The essential oil is poisonous if swallowed.
During World War II, Australian soldiers were issued first-aid kits containing tea tree oil for disinfecting wounds and speeding the skin's healing process. It was so important to war efforts that the government exempted those working in its production from military duties.
– by Alisha Racker
[Product images courtesy of manufacturers]