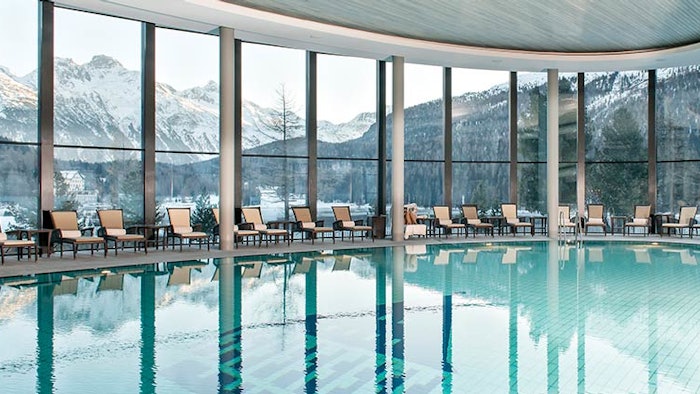 The elegant Badrutt's Palace Hotel sits at an altitude of 6,000 feet in the Swiss Alps, with fresh mountain air and picturesque indoor and outdoor spaces. The hotel provides plenty of opportunities for guests to relax and refresh, and nowhere is that more apparent than at the spa, Palace Wellness. The expansive spa is more than 18,000 square feet, with 10 treatment rooms, a three-station hair salon, aroma sauna and salt steam rooms, and five private spa suites. Treatment offerings are tailored using cutting-edge therapies and techniques, including Ayurveda, nutrition, massage, reflexology, yoga and more. To learn all about this iconic property, WellSpa 360 chatted with Martha Wiedemann, wellness advisor and Badrutt's Palace associate director, for an in-depth look at what makes Palace Wellness a sought-after destination.
How do you choose treatments for your menu?
In addition to taking into consideration our client feedback and their growing wellness needs, we refer to the annual research done by the Global Wellness Institute (GWI) to help us assess new developments in the industry. We participate at the annual Global Wellness Summit (GWS), where industry experts present their findings and share their knowledge on how we can improve and introduce innovative wellness systems within our facilities.
Our research also extends to developments in beauty and alternative health. We are able to introduce new treatments by working closely with brands like Biologique Recherche, who are innovative and active in their R&D to address the growing skin care and beauty needs across the globe.
How do you stay competitive in your area?
We provide a caring and personalized service that remains authentic and results oriented while utilizing products made with the best ingredients. We follow the evolution of the beauty and wellness industry carefully and upgrade our menu of services accordingly each year.
How do you market the spa?
Social media plays a big role in our marketing efforts. We use sponsored posts to target the local market, because Palace Wellness serves not only hotel guests, but also locals. We place billboards in key spots in town, such as the train station and the busiest roads. Another digital marketing activity we use is Google keywords, such as "wellness in St. Moritz," and the like.
How are you retaining repeat guests?
We understand that everyone is unique and so are their needs. With this in mind, we often personalize our services and programs to meet individual goals. This approach not only delivers better results but helps us to establish trust, loyalty and a large percentage of return clientele.
How do you train staff?
Our regular internal trainings focus on delivering our unique Badrutt's Palace service, discretion, attention to detail and the personal Palace Wellness care for our clients. In addition, we organize specialized training programs externally to improve on the skills of our therapists and wellness providers.
How do you foster outstanding service?
We avoid having a generic approach and place a great deal of importance on listening and understanding each of our client's needs, so we can be accurate in how we serve them as individuals. Our team of professionals are not only highly skilled but love the work they do as wellness providers, which in turn enhances the way service is delivered.
What do you do to retain quality spa professionals?
We recognize that our staff play a significant part of our success; therefore, we invest in providing them with quality accommodations as well as education to upgrade and improve their skills. We also implement reward programs.
What are your top treatments?
Our Customized Massage is beneficial for those suffering from muscle tension and restriction of movement brought about by either poor posture or misalignment of the physical body. It commences with specific breathwork and stretches to assist in loosening the body. Then, a series of therapeutic massage techniques helps bring relief while improving mobility and balance. This treatment uses organic Ayurvedic herbal oils specific to treating the client's condition.
In addition, the Personalized Facial by Biologique Recherche is a bespoke treatment suited for those with concerns such as premature aging, hypersensitivity, undernourishment or problems with impurities. Each person's skin is unique, often with varying imbalances and weaknesses in its different zones. With this in mind, our trained professionals individualize the treatment of the complexion according to its specific needs with professional systems, machines, booster serums and specialized products from the brand.
What is most important for running a successful spa?
Human care is by far the most essential quality when delivering wellness. We never forget that we are in the service industry, addressing a personal and much-needed aspect of our guests' wellness needs.
We deliver well-being through relevant systems, using the purest of ingredients, and our highly skilled team all provide a touch of human care and love. We recognize the power of care and love in healing and instilling well-being.