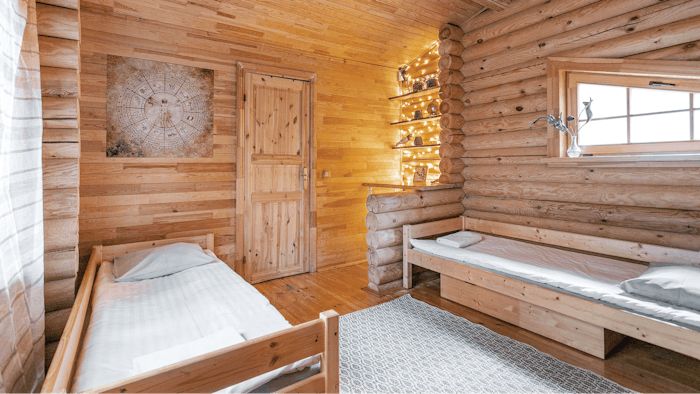 An eco-resort nestled in the forest of Asveja Regional Park, Auksine giria—or The Golden Forest (auksinegiria.lt)—seamlessly blends healthy lifestyle habits with relaxation and self-discovery for its guests. It's surrounded by nearly five acres of pine trees and crystal clear lakes, allowing visitors to escape the city and unwind in nature.
The property approaches wellness programming from a guidance standpoint, encouraging guests to forge their own pathways to balance. Although there technically isn't a spa on site, The Golden Forest's various events, retreats and experiences provide plenty of self-care opportunities, including Master of Calm, an annual consciousness festival, as well as other celebrations on New Year's, midsummer day and visitors' own special occasions. Customized retreats for individuals and groups are also available, including experiential camps for teenagers' personal development and team-building experiences for businesses.
"We created this space for those who want to seek more, for those who wish to pursue a more harmonious lifestyle and its deeper understanding," explains cofounder Jurga Vidugiriene. "We invite guests on a journey to see and be inspired by their own potential and discover the most befitting philosophy for themselves. We do this by introducing them to the diversity and multiplicity of personal development practices. We select the best teachers in their field and offer reliable training. The fundamental value at The Golden Forest is trustworthiness—for teachers, the all-embracing experiences and the community."
The Golden Forest can accommodate up to 100 people, with forest huts available to those looking for an extended stay. Six of these are beautifully decorated based on different archetypes: Lover, Magician, Explorer, Sage, Everyman and Innocent.
In addition to its various nature, self-care and recreation experiences, the retreat provides nutritious vegetarian and vegan cuisine to round out its holistic approach to total well-being.
Continue Reading about business tips and signature services in our Digital Magazine...