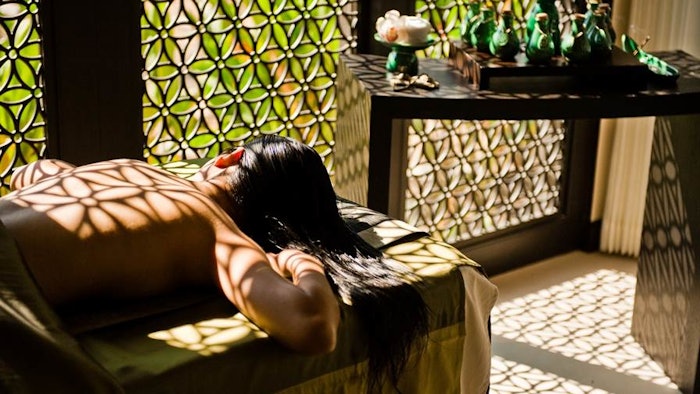 Photo Courtesy of Banyan Tree Samui
Banyan Tree Samui in southern Thailand has introduced aromatherapy workshops as a free amenity for guests. The courses are held twice weekly at Banyan Tree Gallery Samui, the resort's on-site boutique. The Gallery team acts as consultants to the participants, suggesting combinations of oils to target their individual goals, whether it be health and overall wellness or simply a fragrance to help ensure a good night's sleep.
Related: Rosewood Vienna Debuts Asaya Spa to Offer Customized Well-Being Journeys
The hotel sources aromatic ingredients from local markets on the tropical island of Koh Samui. Extracts from plants—flowers, twigs, leaves, bark, roots, wood, fruits, seeds and resins—are obtained using either a process of expression or steam distillation, yielding aromatic oils that can be used for healing. The only other ingredients are distilled water and ethyl alcohol.
Guests are advised which essential oils are the most effective for a range of elixirs and emotions. For example, lemongrass is considered a tonic for alertness, stimulation, and reducing anxiety, and can be combined with rose to accentuate an uplifting and soothing sensation. Cedarwood, rosemary, lavender, ylang-ylang, bergamot, peppermint and pine are among the other ingredients that can be refined into stimulating essential oils at the Gallery classes.
When completed, each participant is welcome to take home their own aromatherapeutic concoction after it has been bottled and presented as a room mist spray. Banyan Tree Samui also offers evening turndown service with oil burners and incense in each villa and a daily rotation of fragrances.
On Wednesdays, for example, guests are treated to peppermint essential oil in their burner, which is known to have a refreshing and decongesting effect, while the incense for the day is the floral plant champaka, renowned for refreshing the mind and lifting the spirit.