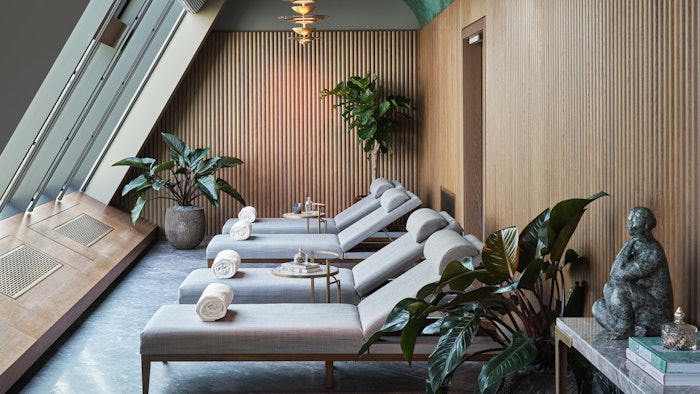 Photo courtesy of Rosewood Vienna
Rosewood Vienna announced the opening of the Asaya Spa, where guests can experience elements of Rosewood Hotel Group's lifestyle community for the first time outside of Asia. 
Designed to inspire self-discovery for a fulfilling life, Asaya aspires to bring balance to the body, mind and soul. Guests can book distinct therapies and rituals representative of Asaya's pillars of wellness including physical, community and skin health. The spa has partnered with Augustinus Bader to create facial and body treatments with an emphasis on skin health. 
The spa features four treatment rooms, along with a private social suite, relaxation area, sauna, steam bath, and experience shower. With the goal of providing opportunities for full-body and mental wellness, the spaces help guests achieve their personal well-being priorities. 
The spa menu features a wide range of services based on the Augustinus Bader Method, which has been crafted to stimulate the skin tissue to lead the body naturally into healthy repair at the highest individual level. The brand's patented TFC8 (Trigger Factor Complex) technology coupled with a highly sensitive, hands-on approach helps to boost cellular communication, promote circulation, firm, tone and refresh the skin, for immediately visible results and even greater overall benefits.
Related: 3 New Spas Welcoming Wellness-Seeking Guests
There are also treatments created especially for men, as well as those targeting specific areas of the body such as the décolleté. This partnership complements the treatments created by the Asaya Spa team to offer a multi-layered approach to well-being that is both clinically based and holistically conceived.
Asaya Spa draws inspiration directly from its surroundings through a range of therapies and programs featuring local and Austrian influences. For example, Mountain Glory, a full body treatment based on an old, unique Austrian ritual uses warm salt stones to soothe away stress and tension.
Understanding that many visitors seek out Austria for the purifying effect of its green spaces, lakes, and mountains, many of the spa treatments have been designed to bring this sense of well-being found in nature. These include treatments utilizing local herbs and blossoms for massages and sound rituals featuring singing bowls. 
"With the unveiling of our Asaya Spa at Rosewood Vienna, we are excited to offer the opportunity for guests to experience the brand's signature pillars and rituals, and to partner with Augustinus Bader to bring their patented skin care technology to Vienna for the first time," says Nadine Kaindl, Spa Manager at Rosewood Vienna. "We are honored to be home to the first Asaya outside of Asia and to add yet another rich layer to our already marquee property," remarks Alexander Lahmer, Managing Director of Rosewood Vienna.