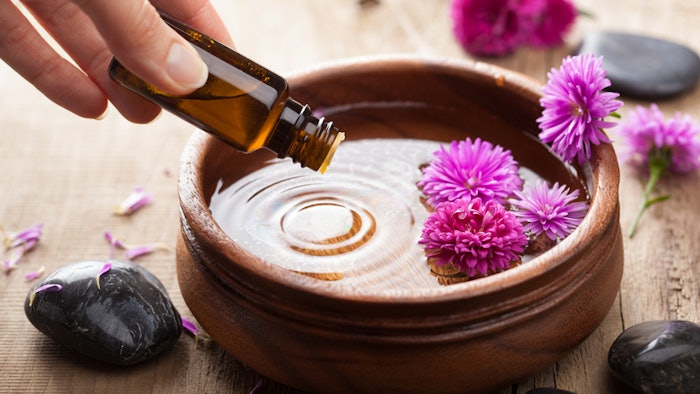 I have always been incredibly scent-sensitive, and I believe it's actually intensifying as I get older, with overly flowery or super-strong fragrances resulting in headaches and even nausea. I noticed, though, that this really only happens when I'm walking past a Bath and Body Works or down the air freshener aisle at the store. It never happens at the spa, and I think that is a testament to the power of pure essential oils and aromatherapy. 
That's why we're looking at aromatherapy and healing treatments this month. Whether you're creating aromatherapeutic bath rituals for guests or simply checking out protocols involving essential oils, you're sure to find new and exciting ways to enhance your offerings using the power of scent. 
We're not only covering specific healing treatments for the skin; we're also looking at ways to balance the mind and spirit. Gemstone infusions are a great way to bring healing energy to guests, as are color therapy treatments and qigong practices. 
Finally, in keeping with our healing theme, I'm sharing my top five aromatherapy picks right now.
| | |
| --- | --- |
| | KM Herbals Bulgarian Rose Hydrosol & Toner is an astringent that's gentle enough for my sensitive skin. The beautiful botanical aroma is an added bonus to this moisturizing mist. |
| | Lifetherapy Energized Body Wash and Bubbling Bath is perfect for my morning shower, thanks to the energizing and refreshing scent of jasmine, orange, marsh grass and peach skin.  |
| | This divine Aromatherapy Associates Deep Relax Candle has pure essential oils that promote sleep and tranquility—plus the ceramic holder looks super chic.  |
| | Although it's amazing skin care, I actually use Yon-Ka Paris Lotion Yon-Ka as a fragrance, too! The lavender, geranium, rosemary, cypress and thyme smell naturally fresh and so pretty.  |
| | The Dry Oil - Fitness from the Natura Bisse Diamond Well-Living collection is simultaneously soothing and uplifting, and one of my favorite ways to add a little spa into my routine. |