The Perfect Body Lift at Hiatus Spa + Retreat, multiple locations in Texas. Treats cellulite and antiaging.
Steps: This relaxing treatment employs a combination of hot and cold stone therapy and powerful peptides to tighten, tone and brighten the skin. "Age, environmental stressors and hormone levels change the amount of peptides in our bodies, which are essential for proper cell function," explains spa manager Mason Hickman. The service begins with dry exfoliation, then a caffeine- and antioxidant-infused balm is rubbed into the mid-thighs and glutes using hot stones in upward motions. Next, the HydroPeptide Perfecting Body Lift is applied to reposition and lift target areas. The therapist then wraps the client in a steam towel and performs a shoulder, neck and scalp massage. After 15 minutes the towel is removed, and the thighs and face are massaged with cold stones to restore tone and tighten skin. A firming moisturizer concludes the treatment.
Powerhouse Performers: The HydroPeptide Perfecting Body Lift is formulated with antiaging and antioxidant peptides to enhance elasticity and increase firmness; kale that diminishes the look of spider veins; and skin-brightening camapu. The brand's Firming Moisturizer utilizes eight peptides and caffeine to aid circulation, as well as a blend of shea and cocoa butters, bearberry and vitamins A, C, D and E to hydrate and reduce the appearance of stretch marks.
Pro Tip: Experiment with temperature. "When the skin is exposed to sudden variations in temperature, the vascular system delivers blood to the area, causing the surrounding tissues to contract and become firm," reveals Hickman. "In addition to delivering a cosmetic improvement to target areas, hot and cold stones aid in the skin's absorption of the products."
RELATED: 5 Summer Wellness Offerings
Softening Rose Body Treatment at Jurlique Spa at InterContinental Buckhead Atlanta. Treatment for hydration.
Steps: Ideal for clients looking to alleviate dryness, this treatment leaves skin feeling baby-soft. The service begins with a few inhalations of a balancing aromatherapy mist, and then Jurlique Chamomile- Rose Hydrating Essence is sprayed onto the body. Next, the therapist performs a dry brushing to stimulate circulation and remove dead skin cells, and applies Jurlique Body Exfoliating Gel. "It starts out like a traditional gel, and dries to a powder finish," explains spa manager Jo Ann Hyde. After the exfoliation, any remaining product is removed using a warm towel infused with chamomile and rose, and the treatment concludes with a soothing massage using rose oil.
Powerhouse Performers: The rose extract found in Jurlique Chamomile-Rose Hydrating Essence and Jurlique Rose Body Oil softens, balances and quenches thirsty skin, while the Exfoliating Gel's avocado and macadamia nut oils improve skin's overall tone and texture.
Pro Tip: Nourish and hydrate. Hyde emphasizes that this luxe treatment is designed to infuse rich moisture into the skin. "Clients love the warm oil at the end—it leaves them feeling relaxed and totally pampered!" she enthuses.
M'lis Clinical Body Wrap at The Skin Company Med Spa, McAlester, Oklahoma. Treats weight loss and detox.
Steps: Perfect for clients looking to slim down before a vacation or event, this body wrap helps contribute to visible inch loss. To start, the therapist measures the guest, then exfoliates the skin using M'lis Buff. Next, a detoxifying body wrap cream is applied from the neck to the ankles, and the client is wrapped in clear plastic to create even pressure all over the body. After the wrap is removed, a second round of measurements is taken. "Our guests love seeing exactly how much they lost," reports spa owner Andee Miller. "The minimum we've had a client lose is 4.25 inches, while others have lost up to 16 inches!"
Powerhouse Performers: The M'lis Contour cream contains a myriad of ingredients designed to target problem areas, including slimming niacin, circulation-stimulating cinnamon and nourishing aloe. Additionally, the wrap itself boosts blood flow and helps the body flush out toxins.
Pro Tip: Set the tone. "We make sure that the experience is very relaxing," emphasizes Miller. "In every treatment room, we have eucalyptus steam, a fireplace and soothing music playing in the background."
RELATED: Crystal Therapies Are Paving a New Path to Tranquility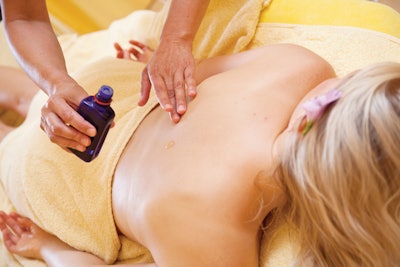 Body Tightening Series at Tranquility Mind & Body Wellness Spa, Milford, Connecticut. Treats antiaging.
Steps: This treatment utilizes both chemical and physical exfoliation to achieve bright, plump, younger-looking skin. After an initial skin cleansing, the therapist applies a series of three exfoliating serums: one to the glutes, thighs, knees and upper arms; one for the arms, elbows, legs and knees; and a repairing serum to the neck, décolletage and hands. Spa manager Lauren Kaszuba emphasizes that each concentrate is applied using a combination of dry brushing, compression and light massage. "The products, along with the method of application, work hand in hand to stimulate collagen production," she explains.
Powerhouse Performers: The blend of tripeptide, yeast extract and hydrolyzed rice protein found in SkinCeuticals Body Tightening Concentrate firms and lifts, while the Vigna aconitifolia seed extract in the brand's Chest & Hand Repair lightens age spots and plumps skin. The SkinCeuticals Body Retexturing Treatment contains urea, niacinamide and hyaluronic acid to exfoliate and hydrate.
Pro Tip: Get a jump on promotions. "We start marketing this service as early as spring to get clients ready for bikini season," notes Kaszuba. "For best results, we recommend a series of five to six treatments, along with at-home maintenance to prolong the effects."
RELATED: Sleep Deprivation and How To Prevent It
Biologique Recherche P50 Exfoliating and Detoxifying Algae Wrap at Daphne European Skincare & Sugaring Studio, New York City. Treatment for detox, cellulite and antiaging.
Steps: Designed for anyone looking to minimize bloating, this invigorating service fights water retention, reduces stress and minimizes signs of aging. "Plus, the full body wrap provides clients with a sense of total relaxation," notes co-owner Stacy Honda. The therapist begins with a gentle exfoliation using the Biologique Recherche Lotion P50, then applies an energizing gel to the skin. Next, the client is wrapped in an infrared blanket to activate the gel's detoxifying and oxygenating effects; the wrap is removed after 60 minutes, leaving the guest's skin feeling toned and rejuvenated.
Powerhouse Performers: Thanks to a blend of alpha-, beta- and poly-hydroxy acids, nettle and lemon, the Lotion P50 gently exfoliates, balances and moisturizes. "The Biologique Recherche Gel d'Algues aux Huiles Essentielles MC 110 is an algae gel formulated with thyme, mint and lemon essential oils to stimulate, cleanse and detoxify the skin," adds Honda.
Pro Tip: Steer clear of water. To maximize the energizing formulas' benefits, Honda advises clients to avoid showering for four to six hours after the treatment.
–by Taylor Foley
With so much focus on facial skin care, it can be easy to overlook the rest of the body. It's likely that many of your clients struggle with insecurities about their physiques, and although a healthy lifestyle is the only way to get—and stay—in shape, there are a few "quick fixes" spas can provide to help address issues from cellulite to sagging skin. By adding body rejuvenating treatments to their service menus, businesses across the country have elevated sales and guests' self-esteem. Here, we look at five popular offerings designed to help clients look and feel their best.