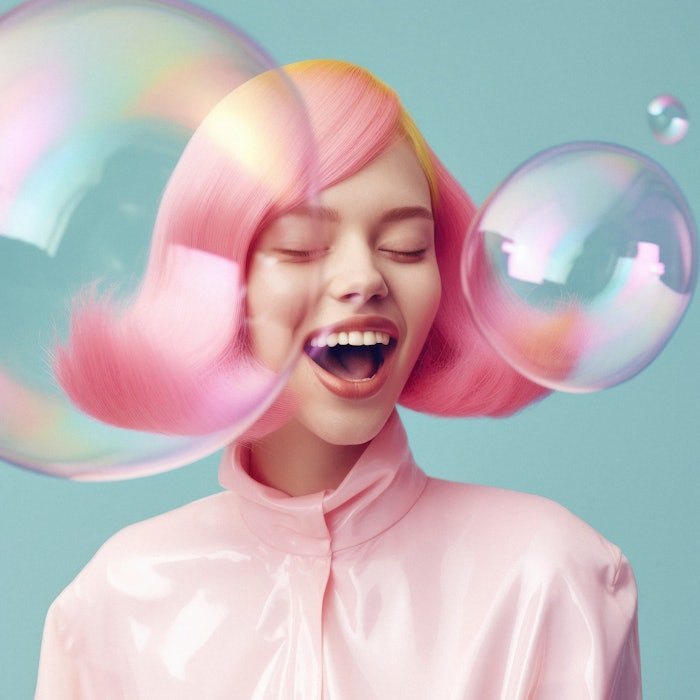 Uncanny Valley at Adobe Stock
While Mintel's 2024 beauty trend report provides insights into where the industry's innovation will go next, many of its underlying factors are already making an impact on brands, products and consumers.
Mind-body Impact
First up, Mintel's NeuroGlow trend notes, "The next chapter of wellness will be mind-body beauty, where mental well-being and physical appearance are interconnected."
This has already been a boon for supplements/ingestible beauty, as we've seen in recent years, and is spurring innovation in neurocosmetics that provide both esthetic benefits and feel-good effects. 
Recognizing the connections between mental wellbeing and appearance will also continue to create demand for psychodermatology concepts and platforms. As Selfmade founder Stephanie Lee noted earlier this year, "[Retailers] expanded their offering across our whole line as the consumer becomes more interested in psychodermatology: we're leading that conversation. Because we are more than products, we are reimagining what it can look like to move into retail and create an experience that evokes emotional well-being at the point of sale."
NeuroGlow also continues to highlight the need for personalized offerings, which have ramped up in 2023 with offerings including Clearstem's acne testing, hormonal wellness and Proven's expansion into Sephora. 
Beauty x AI
Mintel notes that "technology will play a vital role in [the NeuroGlow] trend, with artificial intelligence (AI), virtual reality (VR), and augmented reality (AR) applications personalizing beauty experiences, tracking well-being metrics and offering virtual wellness consultations.
This insight merges well with the firm's Beaut-AI trend, which notes that, "Artificial intelligence will transform the beauty industry by making it more personalized, efficient and effective, but governance and transparency will be critical to growth."
Already AI is making its impact felt, including via virtual try-ons and AI-powered recommendations, as well as climate condition analyses related to skin care recommendations.
Mintel argues that, moving forward, "AI will help brands identify emerging beauty preferences and eco-friendly options."
That said, consumer distrust of technology will need to be alleviated via transparency, a focus on data privacy and data sets that ensure diverse inputs, Mintel warns.
Minimalism 2.0
Mintel's Sophisticated Simplicity trend, meanwhile, highlights the rising demands for transparency in the service of ensuring that products are effective and that ingredients are both necessary and safe.
As reported in July, "the number of ingredients/chemicals per [personal care] product seems to have dropped" since 2004. This has been supported by multifunctional ingredients and spurred by consumer scrutiny over the length and contents of ingredient labels. 
This movement has also been a growth engine for clinical and expert-backed brands that offer clear proof of product efficacy.
The move for minimalism, meanwhile, will have esthetic impacts. Mintel notes, "Clean lines, muted colors and elegant esthetics will create a sense of understated luxury. Brands that embrace minimalist packaging will not only convey a premium image but also align with the desire for uncluttered, stripped-back beauty routines."
At the same time, Mintel predicts shoppers will use fewer products overall, instead focusing on "curating a carefully selected range of high-quality essentials."
To support this mindset, brands will need to tap the personalization tools mentioned above and ensure they are clearly aligned with shopper values.