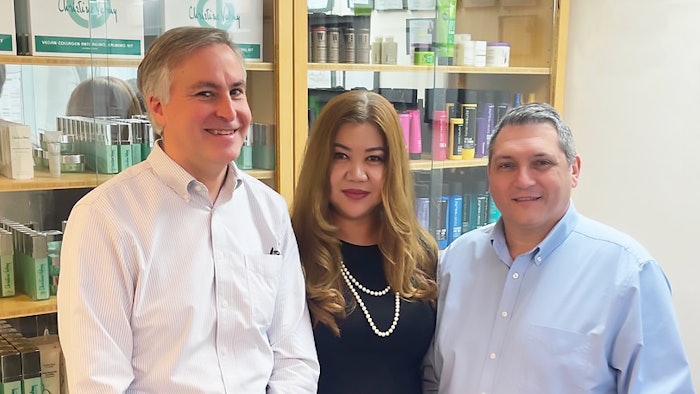 Photo courtesy of Christine Valmy
Christine Valmy announced Robert Olich as its chief financial officer, Steve Earl as head of manufacturing and operations, and Vicky Nimmolrat as director of human resources and compliance. 
These positions are pivotal for the continued success of Christine Valmy, and they reflect the organization's efforts to design an operation primed to gain market share in the cosmetics space. 
"I have worked at this company in one form or another for my entire life, and I've seen it through many transitions," said Marina Valmy, Christine Valmy's president and the founder's daughter. "I can honestly say that we are in the midst of its biggest transformation ever. The addition of Robert, Steve, and Vicky in these crucial roles represents some of the most exciting aspects of this consequential change, much of which has yet to be made public."
Related: Christine Valmy Introduces Ownership & Spa Management Course
Olich brings more than two decades of experience in financial and corporate control, including cross-disciplinary experience in systematizing budgeting and financial reporting for organizations such as Marino/WARE, Legrand and RAME-HART, Inc. He will be responsible for directing the company's financial activities across business lines, reforming cash flow management procedures and leading a growing accounting department. 
Earl previously served as a plant leader for cosmetics manufacturing companies such as L'Oreal, Intercos, and Tokiwa Cosmetics. He will apply his production experience to streamline processes and increase efficiencies throughout the products division, as well as oversee all teams in the laboratory, factory and warehouse. 
Nimmolrat came to Christine Valmy from Rana USA Inc., where she was the director of human resources. She brings valuable experience strengthening employee relations and increasing retention to enhance company culture. Nimmolrat will play an essential role in developing organizational structure, recruiting and onboarding candidates and managing benefits programs.