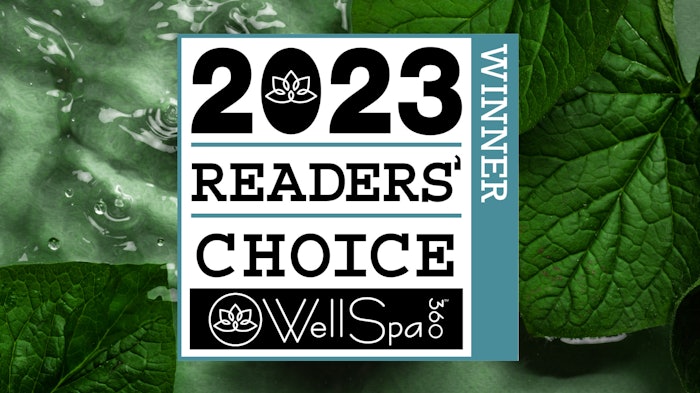 It's official! After a successful round of nominations and voting, the results are finally in, and we can't wait to share the winners and finalists of WellSpa 360's 2023 Readers' Choice Awards.
We want to thank all of the participating brands and readers who took part in the nomination and voting process. As the premier resource for wellness spa professionals, it was important for us to recognize product excellence in the industry.
Without further ado, here are our 2023 Readers' Choice Awards winners. You can also get to know the 2023 Readers' Choice Award winners in this exclusive profile in our December issue.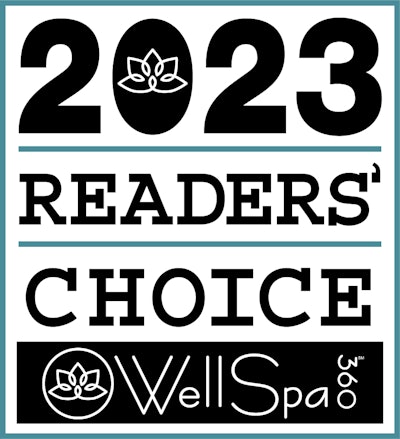 Best New Product
Winner: Sorella Apothecary Purifying Powerclay
Finalists: Eminence Organic Skin Care Tropical Superfood Collection, Nuda Self Tanning Water Mousse
Best Massage Medium
Winner: Pure Fiji Exotic Oil
Finalists: M.A.D. Skincare Oil Free Aromatherapy Massage Oil, Eminence Organic Skin Care Yuzu Solid Body Oil
Best Body Treatment
Winner: Moor Spa Seaweed Gel Body Mask
Finalists: Pure Fiji Royal Milk & Honey Ritual, Pevonia Natural Skincare Crepe-No-More De-Aging Body Wrap
Best Body Exfoliant
Winner: Eminence Organic Skin Care Stone Crop Revitalizing Body Scrub
Finalists: FarmHouse Fresh Sunny Dippin' Foaming Body Polish, Bioelements Herbology Retexturizer
Best Body Serum
Winner: Pure Fiji Dilo Rescue Body Spray
Finalists: Immunocologie Body Serum, Eminence Organic Skin Care Bamboo Firming Fluid 
Best Body Lotion/Oil
Winner: KM Herbals Fresh Hope Hand & Body Lotion
Finalists: Moor Spa Body Lotion, Adoratherapy Chakra Dry Touch Healing Body Oil 
Best Green Product
Winner: Eminence Organic Skin Care Kombucha Microbiome Balancing Essence
Finalists: AcARRE Beauty Refresh Multi Use Treatment Powder, FarmHouse Fresh Organic Sunflower Honey Butter
Best Firming
Winners (TIE): M.A.D. Skincare Pro Youth Transformation Glycolic Mask & Pure Fiji Anti-Aging Intense Day Creme
Finalists: Pevonia Natural Skincare Lumafirm Body Moisturizer, COSMEDIX Illuminate & Lift Neck & Decollete Treatment 
Best Sensitive Skin
Winner: LaFlore Live Probiotic Concentrated Serum
Finalists: TiZO Ultra Zinc Body & Face Tinted SPF 40, SAIAN Nourishing Probiotic Mask
Best Brightening
Winner: Sorella Apothecary Lemon Lightening Serum
Finalists: M.A.D. Skincare Radiant Brightening Peel, Pevonia Natural Skincare Lumafirm Repair Cream
Best Dry Skin Product
Winner: Bioelements Crucial Moisture
Finalists: Phytomer Nutritionelle Dry Skin Rescue Cream, SAIAN Pure Hyaluronic Acid Serum
Best Makeup
Winner: Pevonia Natural Skincare YouthRenew Tinted Cream
Finalists: M.A.D Skincare Photo Guard SPF 50 Self-Adjusting Foundation, Hawrych MD Lash Advanced Eyelash Enhancer
Best Bath Product
Winner: Saltability Himalayan Salt Detox Bath
Finalists: KM Herbals Sage Bath Salts, Kneipp Good Night Swiss Stone Pine & Balsam Torchwood
Best Facial Device
Winner: Rezenerate NanoFacial WandPro
Finalists: Geneo Glo2Facial, FOREO LUNA 4 Cleansing Device
Best Massage Tool
Winner: Earthlite Massage Tool Kit
Finalists: 7eWellness Myolift Kansa Gua Sha, Hyperice Hypervolt 2
Best Body Device
Winner: MedMassager Body Massager
Finalists: inHarmony Sound Lounge, FOREO LUNA 4 body 
Best Facial Tool
Winner: Saian Ice Globes
Finalists: Pure Fiji White Jade Gua Sha, Sorella Apothecary Rose Quartz Stone
Best Fitness Aid
Winner: Hyperice Venom Go
Finalists: Corc Yoga Mat, PressoMassage LX9 Max System
Best Mindfulness Aid
Winner: inHarmony Meditation Cushion
Finalists: Moxie Malas Stillness Diffuser Mala, Myndstream
Best Supplements
Winner: Grande Cosmetics GrandeGUMMIES Ashwagandha Mood Booster Gummy
Finalists: Bend Beauty Renew + Protect Mini Softgels, Xandro Lab Spermidine
Best Aromatherapy
Winner: Earthlite Holistic Alchemy Organic Essential Oil Kits
Finalists: KM Herbals Aroma Therapy Purifying Spray, ESS Aromatherapy French Lavender Essential Oil
Best CBD
Winner: FarmHouse Fresh Cool Revival Body Balm Chill Out Stick
Finalists: RevealU Skincare GOLD CBD Face & Body Gel (Professional), Yoga Balm CBD 12 Piece for Professional Use
Best Ayurvedic
Winner: Diamond Way Ayurveda Deluxe Kansa Wand Set, 4 ct
Finalists: HealthyLine Rainbow Chakra Mat Large 7428 Firm - Photon PEMF Inframat Pro Third Edition, Cinq Mondes Three Ayurvedic Oils Body Balm
Best Spa Beverage
Winner: Pure Inventions Water Infusion Drops
Finalists: SkinTe Collagen Sparkling Tea, Bend Beauty Marine Collagen + Co-Factors - Powder
Best Crystal/Gemstone Product
Winner: Moxie Malas I Am Enough Bracelet
Finalists: VitaJuwel ViA Bottle, HealthyLine Platinum Mat Full Pro PLUS 7428 Firm - Photon Advanced PEMF InfraMat Pro
Best Treatment/Tables/Equipment
Winner: Gharieni RLX Satori Wellness Lounger
Finalists: EarthLite Professional Massage Table Warmer, Himalayan Source Atlas Flex-Block Salt Table
Best Salt Therapy Design
Winner: Salt Chamber The Wellness Suite
Finalists: Halotherapy Solutions Halo-IR Halotherapy and Infrared Sauna, Himalayan Source Himalayan Salt Room
Best Spa Supply
Winner: Prevention Disinfectants Disinfecting Wipes
Finalists: EarthLite Bodyworker's Choice Massage Table Warmer, Sposh Cross Strap Sandal
Best Spa Decor
Winner: Bloomy Lotus Nebulizing Aroma Diffuser, The Bamboo
Finalists: Himalayan Source Himalayan Salt Walls, Salt Chamber Salt Bed With Halotherapy
Best Spa Retail
Winner: Spa Moments Shoulder Fan Wrap
Finalists: Moxie Malas Amplifier Crystal Bracelet, 7eWellness Myolift QT Plus
Best Retail Gift Set
Winner: Pevonia Natural Skincare BodyRenew Jasmine & Lavender Gift Set
Finalists: FarmHouse Fresh Quick Recovery Face Mask Sampler Set, Pure Fiji Sugar Glow Spa Box
Best Spa Software
Winner: Book 4 Time
Finalists: Meevo, Mindbody
Best Spa Robes
Winner: Comphy Spa Robe
Finalists: Sposh Urban Microfiber Robe, SAIAN Soft Terry Spa Gown
Best Spa Linens
Winner: Sposh Urban Flat & Fitted Sheets
Finalists: Comphy Spa Sheeting, EarthLite ESSENTIALS Easy Care Microfiber Sheet Set
Congratulations to our winners and finalists! We are so excited to celebrate the best and brightest in the industry. Here's to another year of innovative companies and creations.