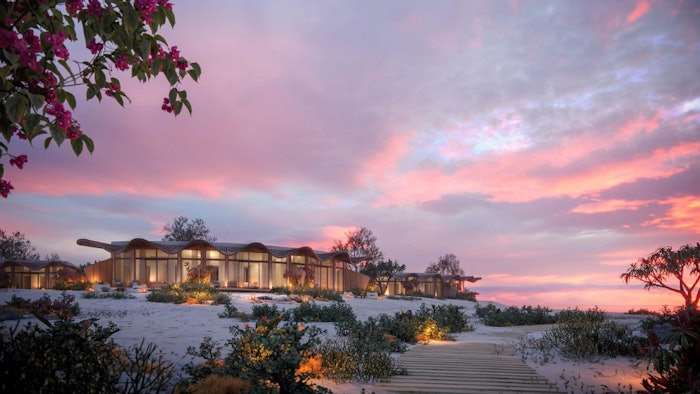 Courtesy of Miraval The Red Sea
Miraval is officially opening a destination in Saudi Arabia, thanks to a management agreement between Hyatt Hotels Corporation and The Red Sea Development Company. The new Miraval The Red Sea will be a luxury wellness resort that bring the brand's signature mindfulness-based wellness practices to international travelers. 
Miraval The Red Sea is the brand's fourth resort and its first outside the U.S.; it joins Miraval Arizona, the brand's original location in Tucson, Arizona; Miraval Austin in Texas; and Miraval Berkshires in Lenox, Massachusetts.
Miraval The Red Sea will have 180 guestrooms and suites, including 20 villas. To promote mindfulness and introspection, the resort will have dedicated areas including walking trails, a mangrove boardwalk, outdoor adventures and intentional rooms set up for creative expression, wellness lectures and hands-on Miraval workshops.
The resort's Life in Balance Spa is expected to be the largest within the Red Sea destination, with 39 treatment rooms and services, destination-inspired experiences and wellness programs that pay homage to local culture and heritage.
Miraval The Red Sea will also feature a meeting space for wellness-focused, experiential activities tailored to improving connections and communication for social and corporate groups. Plus, the  Life in Balance Culinary Kitchen and marketplace will provide mindful and healthy cuisine, and cooking workshops will promote a balanced nutritional lifestyle.
"We are thrilled to announce plans for the renowned Miraval brand in one of the Kingdom's most impressive tourism developments in recent years," said Ludwig Bouldoukian, Hyatt's regional vice president of development for the Middle East and Africa. "Saudi Arabia has become a thriving hub for global business, arts and culture, and pioneering hospitality experiences, and continues to represent an important growth market for Hyatt. Miraval The Red Sea will expand on Hyatt's growing luxury resort offerings in the Middle East, catering to today's luxury travelers seeking wellbeing experiences through alignment of body, mind and spirit."