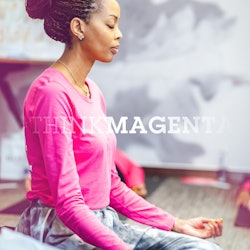 Courtesy of Global Wellness Day
Global Wellness Day (GWD) has announced #ThinkMagenta as this year's theme, which will be celebrated on Saturday, June 11, 2022.
#ThinkMagenta is an idea that rises amidst the negativity in the world, promoting simple yet effective affirmations reminding people that living well begins in the mind. 
"Think magenta is not about being optimistic, it is about being realistic," says GWD founder Belgin Aksoy. "Things happen in our lives and we have the choice to call them good or bad things. Sometimes difficulties, failures or illnesses become the greatest teachers. No matter what is happening we can always find a way to choose joy."
#ThinkMagenta is simple to do whether at home, at work or outside. It starts with three easy steps: stop, breathe and smile. In stressful, anxious, tense and negative moments, #ThinkMagenta provides a very simple way to disperse the dark clouds.  
Here are small suggestions that can make a substantial difference in daily life:
1.   Let GWD's Manifesto be your compass in life.
Walk for an hour.
Drink more water.
Don't use plastic bottles.
Eat healthy food.
Do a good deed.
Have a family dinner with your loved ones.
Sleep at 10 pm.
2.   Use the right words.
3.    Simplify your life.
4.    Be open to different experiences.
5.    Share the goodness.