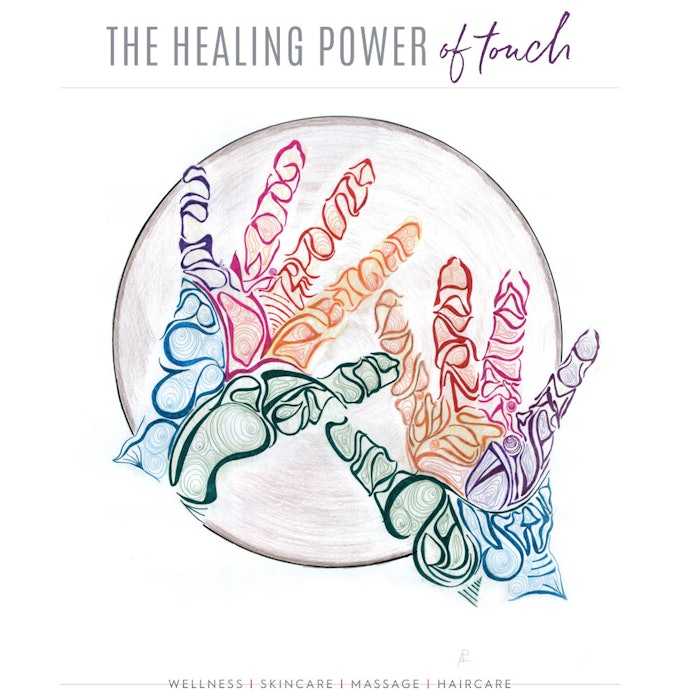 The Art in Wellness Collaborative called on artists from around the world to submit artwork that communicated the benefits of touch to the general public. This art submission was in an effort to promote and help the spa and wellness industry translate how healing the power of touch can be.
The judging panel for these pieces of artwork included Julie Bach, the Art in Wellness Collaborative founder and executive director of Wellness for Cancer; Sallie Fraenkel, founder and president of Mind Body Spirit Network; Michael G. Tompkins, visionary in the luxury hospital, healthcare, wellness and spa industries; Mary Bemis, founder of Insider's Group to Spas; and Cord Coen, founder of Zents. The panel selected four artist to have their work shared with the spa and wellness community.
"I came up with the collaborative to unite the global industry during COVID-19 around a succinct and powerful message, which artfully reinforces and strengthens a positive message around the healing power of touch...that we are here to help with stress and to reinforce well-being," says Bach.
Winning entries each received $1,000 sponsored by the owner of Bellus Academy and the founding president of Beauty Changes Lives. The artwork from each of the winning artists can also be downloaded and printed as a poster to share with the spa and wellness community. These pieces are meant to remind the community of art's ability to enhance well-being and connection while promoting the healing power of touch.
The featured artists included:
Pacia Elaine Anderson.​ A teaching artist, creative consultant and community development and engagement strategist with numerous academic, nonprofit, civic and community-based organizations and institutions, Anderson's winning piece, Healing Touch, represents the unifying, healing power of touch and forms the foundational aspects of human connection.
Mizuho Call.​ Born and raised in Shiga, Japan, Call studied photography and graphic design at a liberal arts college in Virginia and later went on to work at a spa distribution company for eight years before starting her own design company. Her artwork, Healing and Nurturing, is meant to showcase how wellness comes from inner peace.
Tia Crystal. A celebrated artist, jewelry designer and energy healer​, Crystal stated that her artwork, Dancing Light, is a reflection of her own energy.
​Vasileia Dereli​. A graduate of Athens Law School and Athens School of Fine Arts, Dereli was awarded the SNF Artist Fellowship grant ARTWORKS for her artistic talent. Her piece, Healing Hands, utilizes mixed media on paper to spread the message of healing.
​​"Symbiotic to each other, beauty and art heal and restore people across all geographies, cultures and ethnicities. These awardees embody the transformative power of healing touch and the therapeutic techniques beauty professionals apply to change lives and make life itself more beautiful," says Tompkins.
To view and download the art, visit ​www.artinwellness.com​