Premier wellness event returns to Europe in 2018; Summit for global executives to take place at Technogym Village in Cesena, Italy, October 6-8, 2018. The theme of its 2018 conference is "Shaping the Business of Wellness."
The Global Wellness Summit (GWS), the annual event focused on the $3.7 trillion global wellness economy, wrapped up its incredibly successful 3-day Summit earlier this month at The Breakers Palm Beach, FL. The event, which attracted a record 600+ health and wellness leaders from 43 countries, included an inspirational "Wellness Moonshot," a call-to-action to rid the world of preventable disease. Former U.S. Surgeon General Dr. Richard Carmona, Dr. Mehmet Oz, Dr. Andrew Weil and Weight Watchers' CEO Mindy Grossman were just some of the luminaries that voiced their strong support for this massive, yet urgently needed, goal.
 At the close of the event, Susie Ellis, Chairman & CEO of the Global Wellness Summit, announced that Technogym, the world-leading company specializing in technologies for fitness, wellness and health, is the 2018 host sponsor. "As a company that embodies the business of 'Living a Well Life,' I can't think of a better host to carry on the conversations that began at The Breakers in Florida. Technogym is an official supplier of the Olympic Games, their products are in over 100 countries worldwide and over 35 million people use them each day. Technogym is proof that wellness can be authentic, innovative and big business!"
RELATED: Global Wellness Summit Experts Name Eight Wellness Trends for 2017
Before the word 'wellness' permeated the lexicon, Nerio Alessandri, who founded the company in 1983 after building a prototype of his now globally famous fitness equipment in his garage, dubbed Technogym a "wellness company" in the early 90s. Alessandri's innovative and integrative approach to the business of wellness, including his insights on technology and the building of a successful, publicly-traded company, will drive the dialogue and agenda of the 2018 Summit, as will the unique location in the heart of Italy's "Wellness Valley." Delegates will have rare access to a company steeped in wellness – from the products it produces to the environment it has created for its employees and surrounding community to its mission to inspire the world with wellness innovations.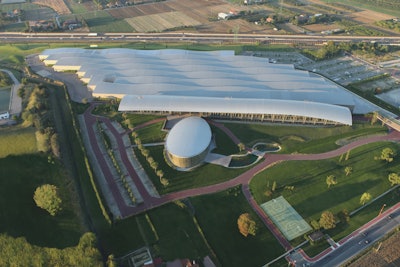 Located in Cesena, Italy, a small town between the Adriatic coast and the hills of Emilia Romagna, the 2012 Technogym Village opening celebration was attended by former U.S. President Bill Clinton and Italy's then-President Giorgio Napolitano, as well as numerous global opinion leaders in fitness, sport and health. The 37-acre campus was designed from the ground up to inspire and encourage the wellness lifestyle – not only in terms of physical fitness, but also with a focus on environmental sustainability, architectural wellness and even mental well-being through the beauty of art, music and fashion – and is home to an expansive research and education center, state-of-the-art gym, the Technogym factory, and farm-to-table restaurants.
RELATED: ISPA Announces Workforce Study Launch at ISPA Conference & Expo
"Technogym and the entire Wellness Valley are very proud to host the 2018 Global Wellness Summit," said Nerio Alessandri, Technogym's Founder and CEO. "Alongside our creative products and solutions, Technogym has been promoting wellness, as a social and economic opportunity, for over two decades and I believe our campus and the surrounding area, which is oriented to wellness and quality of life, is an ideal location for gathering wellness experts and operators from all over the world."
 "When it comes to the Technogym campus, 'seeing is believing,'" said Ellis. "High design and high tech mashes with a forward-thinking management style that is awe-inspiring – as is Technogym's support of the 'Wellness Valley' and the impact its Wellness Foundation has made throughout the world."