Cuccio
, I can reach a bigger audience and we give the opportunity to grow to be an educator and help them to attain their goals.
In Israel we have a new distributor named GlowTech. Together we had an amazing event this February. At this event, we gathered 155 nail techs for the first time. An event like this has not taken place within the last seven years, what an accomplishment!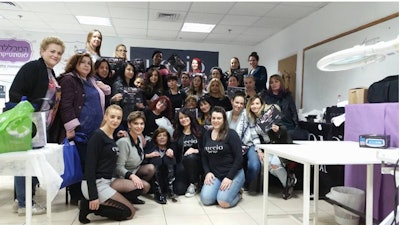 We also went to a school in the North called Haifa. We held classes there for Israeli and Russian nail techs. Another place we visited was in the South called Beersheba where we had a class of 32 Israeli nail techs.
How amazing was the experience to be in this country, rich in history, and doing what I love – nails! So now Israel has a new team of Cuccio educators. They love the dipping powder and what are the odds of this Puerto Rican nail tech, now Global Educator teaching nails in the Western Wall in Jerusalem.
Cuccio for the first time in history is taking over Dubai and has a distributor named Monarqi as well as a new team of educators.
I conducted educator training for the first time in this country and held presentations in various chain-salons.
The educators for Dubai are from the Philippines and Ukraine. The products they liked most are the Cuccio T3 Hard gel and Dipping Powder which are new to this country. Cuccio will be traveling to more countries around the world creating new opportunities for people aspiring to become educators. This will also help nail techs attain their goals of having good products, a profitable way to make money and allow them to work fast.
–by Marilyn Garcia of Cuccio
What an amazing job I have! One of the perks of being a nail tech is having the opportunity to travel the world. And on top of that with the position of Global Director of Education for