Miraval will continue to be a standalone operation of resorts and spas.
Hyatt Hotels Corporation have announced that Hyatt has acquired Miraval Group, from an affiliate of KSL Capital Partners, LLC.
For over 20 years, Miraval's flagship property in Tucson, Ariz. has been considered one of the nation's leading wellness resorts, offering a comprehensive program of imaginative, authentic and meaningful experiences. Along with acquiring the flagship Miraval Arizona Resort & Spa, Hyatt will continue Miraval's plans to redevelop the recently acquired 220-acre Travaasa Resort in Austin, Texas and pursue the acquisition and redevelopment of the 380-acre Cranwell Spa & Golf Resort in Lenox, Mass. The transaction also includes the acquisition of the Miraval Life in Balance Spa brand, which opened its first location in Dana Point, Calif. last year.
PHOTOS: Valentine's Day Products
"The Miraval acquisition reflects our commitment to super serving the high-end traveler and finding new ways to understand and care for them," said Mark Hoplamazian, president and chief executive officer, Hyatt Hotels Corporation. "We know that wellness is an area that is becoming increasingly important to our guests and we share Miraval's belief that wellness is more than fitness and nutrition – it's a lifestyle."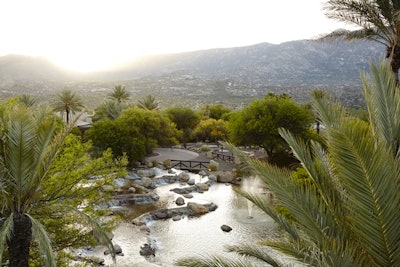 The acquisition includes an initial investment of $215 million for the Miraval brand and the resorts in Tucson and Austin. Hyatt expects to invest an additional $160 million over the next two to three years to fund the expansion of the Tucson resort, the redevelopment of the Austin resort and the acquisition and redevelopment of the Lenox resort. Hyatt will fund the investment with current operating cash flows and proceeds from the sale of existing assets, consistent with Hyatt's asset recycling program. The company expects these investments to be marginally accretive to Adjusted EBITDA in 2017 and 2018, achieving a cash-on-cash yield in the high single digits within four to five years.
RELATED: The Powerful Skincare Benefits of Lavender
Miraval will form a distinct new wellness category within the Hyatt portfolio of brands. Steven Rudnitsky, president and chief executive officer of Miraval Group, will continue to drive the brand's growth strategy, reporting to Mark Hoplamazian and working with the existing Miraval leadership team and associates.
"Importantly, the acquisition also extends the Hyatt brand into adjacent spaces beyond traditional hotel stays, which is core to Hyatt's global growth strategy," said Hoplamazian. "We recognize the business opportunity within the $420 billion wellness-tourism category and understand the rising demand for wellness offerings among our targeted high-end travelers."
"Our shared purpose makes Hyatt the ideal acquisition partner," said Rudnitsky. "This transaction will unlock Miraval's full potential by joining us with one of the foremost global hospitality companies fully committed to wellness. Consistent with Hyatt's strategy, Miraval offers destinations for guests who take an active role in seeking inspiration and self-improvement for a life in balance."