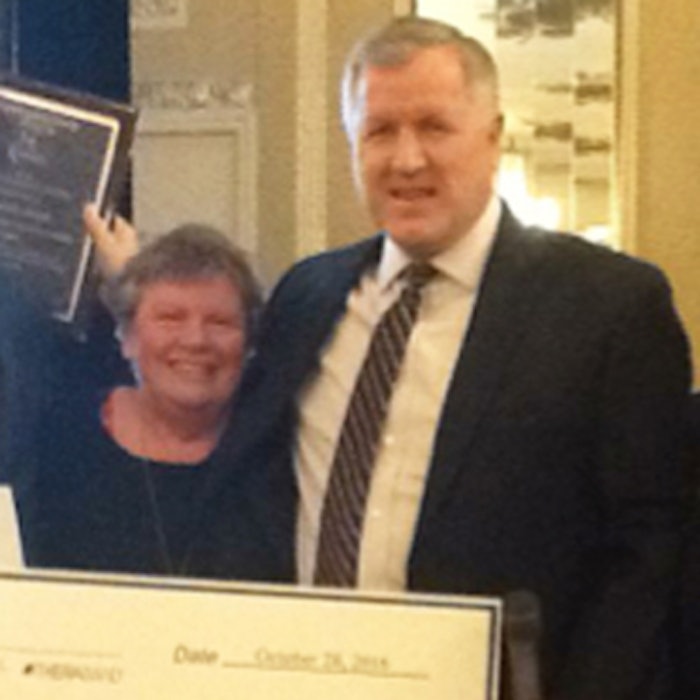 Performance Health is making a $2,500 donation to the Massage Therapy Foundation in Ms. Moyle's name.
Glenath Moyle was presented the 2016 Performance Health / Massage Therapy Foundation Humanitarian Award at the American Massage Therapy Association (AMTA) National Convention held in Milwaukee, WI last month.
Performance Health, manufacturer and marketer of health and wellness products, and the Massage Therapy Foundation have presented this award in partnership for eight years. Glenath Moyle was honored for her efforts in embracing the power of massage and the mission of the Massage Therapy Foundation to promote education and research while serving others. Marshall Dahneke, President, Performance Heath, had the pleasure of presenting the award to Ms. Moyle.
"I am grateful to the Foundation for allowing Performance Health to be a partner in honoring individuals who have given so much to others. I find it inspiring that so many people in massage are true humanitarians. This is truly a blessed profession because of the service-minded people it attracts," stated Marshall Dahneke.
"This year's honoree, Glenath Moyle, began her career as a geriatric nurse, eventually becoming an LMT in 1988. She is the mother of four children and shared 48 years of marriage with her soul mate. Although her 'partner in all things' passed away last year, I believe he is witnessing this moment with very deep pride in his bride," continued Dahneke. Her service includes supporting scouting as an adult leader for over two decades, volunteering in her state licensing board for 24 years, serving the AMTA locally and nationally for 16 years—including as a Vice-President, President Elect, President, and Past President of the National Board—and donating her time and experience to the Massage Therapy Foundation as a member of the Community Service Grant Committee for six years and on the Board of Trustees for five years. It is indeed an honor to bestow this award on caring, funny, unfailingly kind Glenath, who has the most contagious smile I know."
"It is with great pleasure that the Massage Therapy Foundation awards Glenath the Performance Health/Massage Therapy Foundation 2016 Humanitarian award. She has been a Foundation supporter for many years through her unconditional service to the MTF, as well as her volunteer commitment to many other organizations," added Massage Therapy Foundation President Jerrilyn Cambron, LMT, DC, MPH, PhD. "We also would like to extend our appreciation to Performance Health for their gift in honor of Glen."
"I am truly humbled and honored to receive this recognition. We all benefit when service is a part of our lives," said Ms. Moyle. "Please join me in continuing to support our Massage Therapy Foundation. Research informed practice is our future."