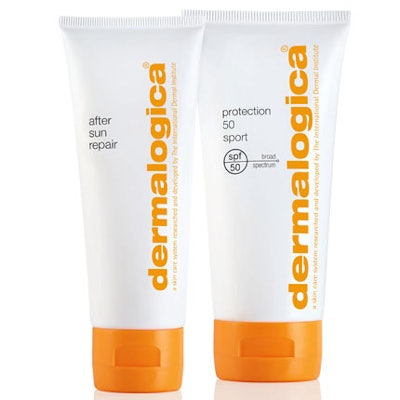 Skin requires protection against damaging UV rays every day, not just when basking at the beach or snowplowing down a brilliantly reflective ski-slope. Encouraging consumers to be mindful of preventing sun damage as an everyday health practice, Dermalogica introduces New Protection 50 Sport SPF50 with Oleosome technology, and a newly repackaged After Sun Repair. Both sun-care products, which can be used for both face and body, are part of Dermalogica's Daylight Defense system, developed for everyday protection against detrimental solar exposure.
New Protection 50 Sport SPF50 is a broad-spectrum sunscreen which utilizes lipid-rich Oleosome microspheres that boost sun protection (SPF50!) and antioxidants to help defend the skin. The formula includes licorice extract to soothe irritation from UV exposure, while hyaluronic acid bonds moisture to the skin without greasiness. This new product is water-resistant for up to 40 minutes and is a must-have for extreme sport enthusiasts who are frequently practicing and attending sporting events outside. Protection 50 Sport SPF50 can be used for both face and body, making sunscreen protection easy for busy people on the go.
After Sun Repair instantly reduces redness and cools sunburned skin with chamomile, clove, cucumber, Szechwan pepper, lavender and yucca. This soothing balm also contains extracts of Japanese Alder which scavenges free radicals and accelerates the repair of UV-induced DNA damage after sun exposure.
The suggested retail price for Protection 50 Sport SPF50 5.3oz is $32 and After Sun Repair 3.4oz is $32. Both products will launch at Dermalogica authorized skin centers, spas and salons across the U.S. starting in April, 2014.