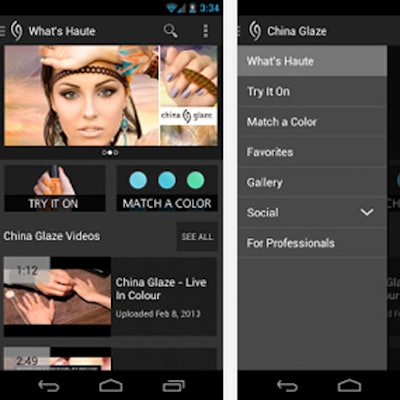 The world of nail color is now available in the palm of your hands with the launch of the China Glaze® App for Android. Well-known for their high quality lacquers, China Glaze® is making nail polish inspiration easier than ever. The free app offers multiple features perfect for every nail polish enthusiast, while utilizing the latest cutting-edge technology to transport users into China Glaze®'s colorful universe.
Find polish inspiration anywhere at anytime with the "Match a Color" feature, which allows users to take a photo from their device and then browse through multiple color-matching options. The feature connects the user to everything from exact shade matches to related textures from the brand's expansive treasury of over 300 colors. The "Try It On" feature allows users to customize a virtual hand to a desired nail length and skin tone while they browse through China Glaze® collections and core colors to see what shades look best.
Connect with China Glaze® in "What's Haute," where users can see real-time updates of new collections, nail trends and how-to video feeds from the official China Glaze® YouTube Channel. Create a Wish List of "Favorites," a feature that lets users store their favorite China Glaze® shades to reference later while shopping, create nail art, and more. Salons and nail professionals can use the new app to register for product updates, as well as have their company listed in the "Salon Locator" feature.
All features on the China Glaze® App allows users to share their favorite shades with their social media networks including Facebook, Twitter, Pinterest and Instagram.
The China Glaze® App is available for free download now in the Google™ Play Store and at https://play.google.com/store.
Also available is the China Glaze® App from the App Store on iPhone®, iPad® or iPod® touch or at www.AppStore.com
[Image: China Glaze]