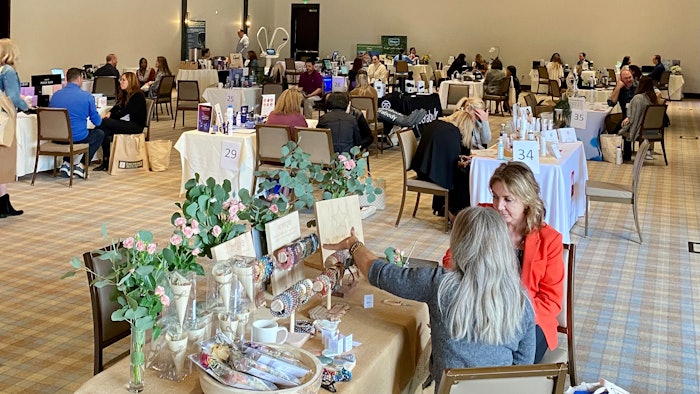 Connection is truly at the heart of the spa and wellness industry, and nowhere was this more apparent than at the annual GSN Buyers Conference this Nov. 1-3, 2021. 
Attendees actually started gathering for GSN Planet's popular event on Oct. 31, heading to the recently renovated Ojai Valley Inn in Ojai, California, to kick off the conference with creative activities and the Green Halloween Party with upcycled costumes. In the mornings, attendees enjoyed early wellness activities, including gentle movement classes with Technogym and sound healing with Liber8 Inc. Afternoons included access to relaxing Spa Ojai treatments, followed by healthy dinners and plenty of socializing. 
The real work was done during the daily meetings. Decision makers from destinations across the U.S. sat down one-on-one with environmentally friendly brands, not only forging business relationships but creating connections that will last long after the conference ended. Companies ran the gamut from skin care to hospitality services, all working toward the same goal: saving the planet. 
Spa directors were able to learn about some brands relatively new to the spa industry like:
PATH, a water bottle that's refillable and recyclable

—

and officially carbon-neutral if it's refilled three times. 
Green Circle, a service dedicated to helping spas and salons become sustainable by collecting waste and turning it into clean energy, among other things. 
Be Love spirit-inspired apparel, which is sustainably and ethically made in Los Angeles.
Plus, attendees connected with a number of green industry favorites, including Eminence Organic Skin Care, Derm Young, Dazzle Dry, eco-friendly Universal Companies brands, and more!
As climate change concerns and eco-friendly practices become vitally important among consumers and businesses alike, it's critical that the spa and wellness industry rise to the occasion by offering clients sustainable options in all things. This year's GSN Buyers Conference provided invaluable education and productive business meetings in that regard, all while fostering personal connection among buyers and suppliers. As GSN Planet executive director Joanna Roche says, "Earth care is self-care," and attendees went home with plenty of exciting ideas for doing just that. 
About GSN Planet: GSN Planet is a 501(c)6 nonprofit trade association that provides education, resources and events to inspire businesses to take action and implement sustainable practices that support well-being. With a focus on building community, GSN believes the industry can make a substantial positive impact by adapting business practices that support people and the environment.