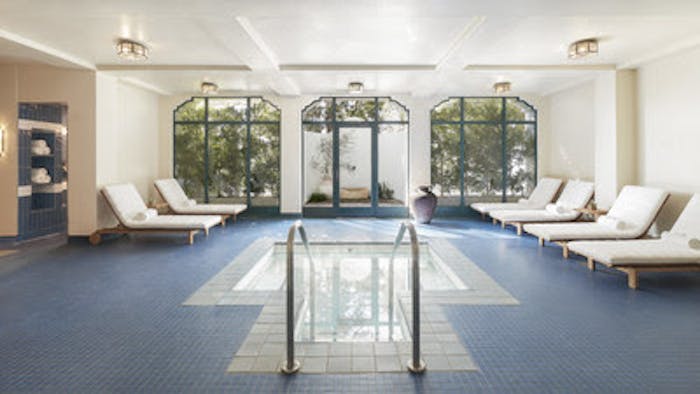 Courtesy of Ojai Valley Inn
Southern California-based resort Ojai Valley Inn has reopened following a $5 million renovation, which included its award-winning Spa Ojai. The spa's new look encompasses all treatment rooms and public spaces, including luxury lockers, flooring, tiling and lighting designed to create a relaxing, peaceful environment. 
Spa Ojai has also reintroduced its signature Kuyam experience for individuals and small groups. Kuyam, a Chumash Native American Indian word meaning "a place to rest together," is a detoxifying experience that combines therapeutic, self-applied desert clay with essential oils, intense dry heat, and inhalation therapy in a sauna-like environment.
"The enhancements introduced at Spa Ojai will offer our guests an inviting, seamless and private spa experience, from the moment they step foot on property," says Kate Morrison, Ojai Valley Inn director of sustainability and wellness. "Over the course of the past year, we have been focused on making physical updates to our iconic spa to enhance the overall Spa Ojai experience with the latest in technology and design, from locker room enhancements to infrared saunas and outdoor showers."
In addition, Ojai Valley Inn renovated Spa Penthouse Suites that sit above Spa Ojai, which are 1,500-square-foot, two-bedroom accommodations with views of the surrounding valley and private outdoor space.