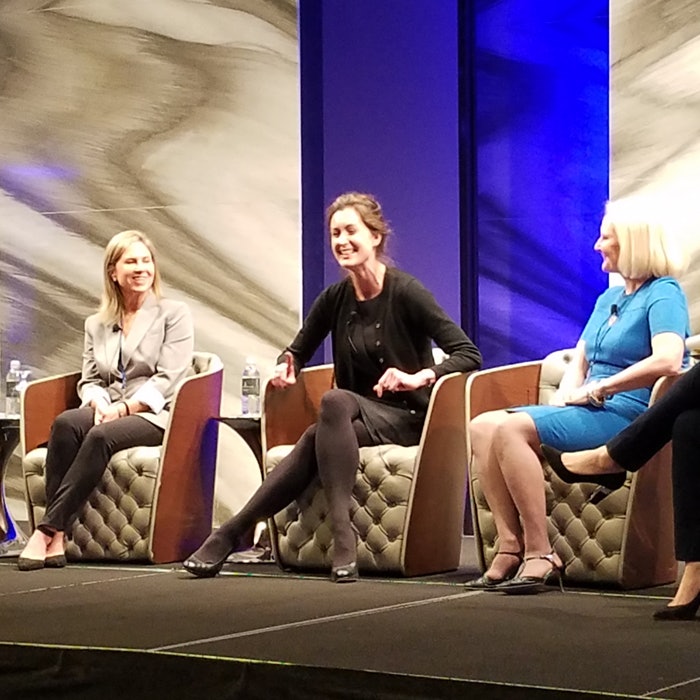 Washington Spa Alliance
(WSA) Symposium should be a definite on your calendar for next year. For the 7th annual meeting on March 20, Kate Mearns, this year's Symposium chair, and her team put together a great roster of speakers who touched on a variety of topics, all of interest to those in the spa and wellness business. We spent the day together at round tables in the ballroom of the historic Watergate Hotel, and immersed ourselves in all things spa.
The day was scheduled to begin with a presentation from Deborah Szekely, but unfortunately the spa godmother had recently had a fall and was convalescing. However, the excellent video made up for her absence in person; in it, she told the story of Rancho La Puerta, from its humble beginnings as a summer camp in the early 1940s, when attendees paid $17.50 and had to bring their own tent! What a long way it has come, and has brought so many of us along for the ride.
RELATED: Implementing Healthy Lifestyle Choices
The Global Wellness Institute's Ophelia Yeung shared some of the research from the just-released Wellness Economy Monitor 2017, which is available for free download at the GWI site. The report identifies the size and scope of many subsets of the wellness economy, which continues to grow at a steady pace, and is an extremely useful tool when planning marketing activities and future strategies.
Consultant and GWI board member Mia Kyricos presented "7 Timeless Truths", her own trend report. This very relevant presentation identified Sleep, Fitness, Nature, Water, Food, Quiet and Community, and Mia discussed the many aspects in which these categories are appearing in spas and wellness facilities. In short, make sure that your spa is embracing at least a few of these in your facility, programming and marketing efforts.
Next, we were treated to a terrific "power" panel, "Pushing the Boundary of Spa & Wellness", featuring Maggy Dunphy of Two Roads Hospitality, Kathleen Shea from Canyon Ranch, Amanda Al-Masri from Equinox, and Julia Sutton of Exhale, with wellness travel consultant Sallie Fraenkel providing excellent questions. A summation of the highlights:
Dunphy: The spa experience is so much more than what goes on inside the four walls; spas are expanding social spaces, not treatment rooms; wellness and healing are the new luxury, and we need a new word for spa because it's too limiting. Dunphy is working on a project based on TCM—stay tuned for more news. She'd like to get away from typical front desk call, and instead suggests just listening to what the client needs and then make a recommendation; clients don't always know what they need.
Sutton: Exhale is focused on building community in its 16 spas, offering "spa outside the spa" experiences (yoga class in the middle of a casino, say), introducing acupuncture, and beginning retreats in its properties that are in residential buildings. The company's goal is to put branded fitness on the map, with new classes such as barre plus yoga. Staff are livestreaming classes, using wearable technology and trying to expand accessibility to wellness.
Al-Masri: Equinox, which currently has a whopping 86 spas in North America, wants to expand the definition of a health club, hence its tagline, "the intersection of substance, style and luxury." The company is holistically looking at performance and technology, and says Spa 2.0 will move spa outside the walls and cultivate relationships.
Shea: Canyon Ranch's current portfolio consists of a combination of destination spas and spa clubs at land on sea—(its spas can be found on 20 cruise ships). It now has Canyon Ranch Living in Tucson, and is opening 19 residences in Lenox. Today's consumers have an appetite for wellness and are ready to invest in it. They understand the importance of camaraderie and community, and curated immersive experiences with bonding. A relatively new focus for the company is brain health, and it has opened a spiritual center to aid in connection and the divine.
RELATED: Global Wellness Summit Announces 2017 Theme
Post-lunch, attendees enjoyed an entertaining—but sobering—session from Les Sweeney, president of ABMP. ABMP currently has 80k members, and also conducts a consumer study of American adults. Their responses show that 16% of them have had at least one massage, yet only 8% a skincare treatment. There has been steady consumer demand for massages for the last decade, and 23 million American adults have had a massage, with a median visit number of 2, but average of 6, so there are many "power users." The study also shows the median session fee to be $70 (the previous 10-year average was $60) and Sweeney also noted that our competition for discretionary income is not necessarily the spa down the street, it's the restaurant, boutique or family needs competing for that dollar.
The biggest area of concern, no surprise, is with the therapists. There has been a steady decline in massage school graduates since 2004, when there were 70k; last year there were only 28k. This while the demand for massage and number of spas continues to increase. The typical therapist works on clients 10-15 hours per week, so even at the high level it is difficult for them to be eligible for benefits with their employers. Sweeney says we need to make sure that massage therapy is a career, not a profession, and provide a supportive environment; the enemy of a MT therapy career is the clock. This topic generated tremendous interest and participation from the room, and is obviously an issue that many are facing. In summation, we need to be able to pay our therapists to work a 30-hour week and be eligible for benefits, but only 20 of those hours can be doing massage, so they need to be trained to provide attendant or front desk/support duties also.
Further in the massage vein, Samer Hamadeh, the founder of Zeel, discussed the company's business model. Zeel is now operating with 8k therapists in 60+ cities. Nearly three-quarters—72%—of all of its massages happen after 5pm, and 22%  after 9pm, supporting Hamadeh's statement that Zeel is not taking business share from spas, where services are not often available at those hours. Positioning itself as a resource for spas, the company is now supplying over 100 spas with therapists on an as-needed basis, helping with call-outs, vacations and opportunities to expand coverage. Spas sign contracts with Zeel, train the therapist to their standards, can prioritize certain therapists, and a two-way solicitation prohibition is in place. Although the Zeel therapist may make more per massage than the spa employee, Hamadeh maintains that spa therapists appreciate the fact that using Zeel contractors gives them the opportunity to take time off or call out sick without guilt.
RELATED: Global Wellness Institute Releases Global Wellness Economy Monitor
Nancy Davis, executive director of the Global Wellness Institute, then took the stage to discuss the Institute's 19 current Initiatives, which focus on a specific aspect of the spa and wellness industry.
Rona Berg, editor-in-chief of Organic Spa Magazine, highlighted the forward momentum and progress of the sustainability movement; as an example, in a recent survey, 56% of consumers said they would stop buying from unethical companies. Berg remarked that there used to only be a few new organic studies each year, and now she sees them every week. Yet more needs to be done to ensure a sustainable world, with plastic-free oceans, for the future.
A second panel of industry connectors, chaired by Natura Bissé's Denise Vitiello, was comprised of Frank Pitsikalis, ISPA/ISPA Foundation, Paul Schmidt of the Green Spa Network, Ilana Moses of the Florida Spa Association, Yael Alkalay of the New York Spa Association and Kristi Konieczny of Spa Buzz.
Damon Cory-Watson of Wellness Warrior made a brief presentation and invited participation in the annual "Day on the Hill," scheduled for the next day, when spa professionals visit Capitol Hill and call on lawmakers to ensure that spa and wellness industry needs are not forgotten. WSA board president Penny Kriel thanked everyone for attending, and following a champagne reception guests were invited to an art reception in the Watergate Gallery, showcasing the work of renowned art photographer Linda Troeller, whose work has been shown in many spas.
It was an excellent and informative day, and I look forward to the agenda for next year!
—By Lisa Starr
There are now so many spa trade shows, conferences, workshops and events that it can be difficult to decide which to attend, but the one-day