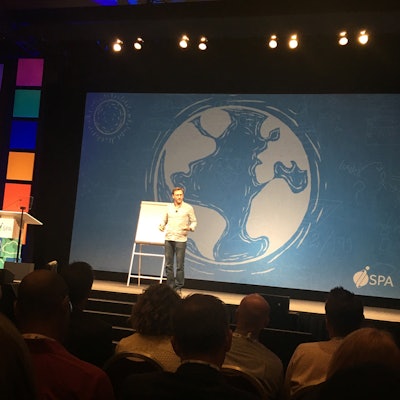 [Image: Keynote speaker Simon Sinek]
Approximately 2,300 spa industry movers and shakers gathered in Las Vegas this week for the 26th annual ISPA Conference & Expo, held at the Venetian. The conference is always jam-packed with activities, and this year was no different. More than 20 Professional Development Sessions (PDS), three keynote presenters, numerous awards, the Silent Auction, healthy networking lunches, and exploring the Expo floor for new finds from more than 200 exhibitors keep attendees busy.
Day One: Tuesday, September 13, 2016
The first day of the conference showcased popular keynoter Dr. Brené Brown, whose TedX Talk, The Power of Vulnerability, is among the 10 most-watched of that series. Brown is a research professor at the University of Houston Graduate College of Social Work, and has authored two New York Times #1 best-selling books. She encouraged attendees to explore their vulnerability, courage, shame and worthiness, all of which are themes that her research has focused on. Longtime ISPA member and former chairman Jean Kolb was awarded the Dedicated Contributor Award for 2016.
Prior to the opening keynote speakers, attendees had the opportunity to participate in several 8 am breakout sessions: Managing the Power of Millennials with Susan Steward; Attracting Millennial Clients: Five Social Media Success Secrets with Erin Gargan; Spa Menu Engineering: Crafting a Unique and Profitable Service Menu from Kate Mearns; and Advanced Sales Strategies to Drive your Profits, from Tanya Chernova.
During lunch, attendees were able to watch an innovative fashion show by Noel Asmar Uniforms, showcasing the durability and flexibility of their uniform options for spa staffers in all positions.
Throughout the day, show goers had the opportunity to mix and mingle with more than two hundred exhibitors, ranging from jewelry and clothing producers to skin care, makeup and nail polish companies. Many offered miniature treatments within their booths, and nine companies set up extensive relaxation area spaces where they offered 30 min. samplings of their protocols.
Day Two: Wednesday, September 14, 2016
The second day started early, with several PDS at 8 am. Terry Herman discussed the 3 Es of retail of the future; Education, Entertainment and Experience. When these are featured, clients come more often, stay longer and spend more, all compelling results. Frequent ISPA presenter Bryan Williams presented Keys to Excellence in his well-attended session geared to getting the most out of your staff. Terri Smith shared the online training tools, videos and staff performance measurement systems that help to make her spa successful, in a session entitled "Using Analytics to Take Your Day Spa to the Next Level."
In the General Session, two students, Kelsey Brink of Florida Gulf Coast University and Margo Mangiarotti from Cornell University were awarded the annual $5000 Mary Tabacchi Scholarship for their business concepts for spa and hospitality. The ISPA Visionary Award was awarded posthumously to Aromatherapy Associates' Geraldine Howard, and accepted in a moving speech by her husband, Captain Peter Redman. The inimitable Deborah Szekely discussed Wellness Warriors and the imminent launch of the website policywell.com, before presenting the ISPA Humanitarian Award to musician and performer John Ondrasik. Ondrasik, also known as Five for Fighting, has been writing and recording music for many years, including hits "Superman" and "100 Years," and the award was to recognize his generosity in distributing over one million albums to members of the U.S. armed forces. Ondrasik proceeded to shed a light on his creative process and intertwined a few of his songs with stories about how they were inspired. His message was to do what inspires you and never give up; the music business has certainly had more than its share of upheaval in the last 10 years, but musicians like Ondrasik have survived by adapting to the changing model and their willingness to flex. The common mantra "failure is the key to success" features largely here; Ondrasik writes about 100 songs to create an album of 10. But he argued that the other 90 songs are not failures, they are just part of the process.
Lunch included another fashion show, this time showcasing clothing from Mind in Motion.
Afternoon PDS's included an excellent presentation on Wellness in the Workplace by Eric Stephenson and Deborah Koerner. The duo's presentation centered on explaining tools for owners and managers to move past the typical "drama-filled" spa and create environments where "psychological safety" is present for the staff. When the staff feels "safe" they are able to perform at their highest level and focus on outstanding client care (more on this theme on Day Three from keynoter Simon Sinek). Boldijarre Koronczay filled his "Three Ways to Use Happiness to Grow Your Business" presentation with large blow-up rubber duckies and balls, bubbles and laughter. He certainly knows how to create a fun environment, adds to attendee happiness, and helps inspire positive messages to bring back home to staff members. Gina Jacoby shared tips and tools for consultative selling in her session "Transform Your Team from Retail-Phobic to Retail Experts," which included addressing the problem, not the product; having the right incentives for selling; hiring people with the skillsets you need; and putting realistic goals in place.
That afternoon, a huge array of experiences and products attracted crowds to the annual Silent Auction, which raised over $100k for the ISPA Foundation, and then everyone dispersed to change into party clothes. Party night included an amazing bash at Madame Tussaud's Wax Museum, where over 500 partygoers mingled with life-sized replicas of rock stars, sports stars, actors and celebrities, a made-for-selfie environment, in a party co-hosted by equipment manufacturer Gharieni Group and Hydrafacial. Dean Langdon's karaoke rendition of the B-52's Love Shack was not to be missed. Next, Living Earth Crafts and Dazzle Dry paired up as hosts for a roller-skating party, which saw a room in the Expo Center transformed into a roller rink, incredible!
Day Three: Thursday, September 15, 2016
Professional Development Sessions continued on the final day of the conference as Heather Lemere discussed digital marketing with a packed room. She spent a lot of time on the three biggest trends in this space: SMS Marketing, Mobile Apps and Paid Social Marketing. Each of these topics could have been an entire breakout, there is much to learn and the technology changes constantly. While email marketing is not dead, and typically generates an 8% open rate (as opposed to 1% for direct mail), SMS (text) messaging open rates are above 90%, a number too large to ignore. Lemere explained to attendees that they can pair this with their email marketing efforts; copy and shorten the URL from an e-blast message, and insert it into an SMS message that lets clients know what they might have missed. It was also made clear that SMS marketing needs to come from a management platform, not your personal phone! Lemere recommends Frederick, owned by Booker, but there are several other options including Group Texting. Mobile Apps have also become a very affordable way to interact with your clients when they're not in the spa, and can be created for under $2k today. Both SMS and Mobile Apps are targeted to existing clientele; paid social marketing should comprise the bulk of your outbound marketing budget, according to Lemere.
WTS's Frank Guengerich gave an insightful session on working with deal sites such as Groupon, Gilt and Living Social; all are now more flexible in working with spas to come up with deals that meet their needs. Petra Kolber's presentation on "The Happiness Epidemic – Catch It If You Can" had attendees singing and enjoying themselves.
The final General Session kicked off with Mind in Motion CEO Leigh Weinraub telling the story of how she went from being a psychologist to running a company that creates clothing and apparel with positive messaging. She shared that successful people typically have three traits: Optimism, Perseverance and Being Opportunistic. Having that optimistic attitude leads to persevering through challenges and taking advantage of opportunities as they present themselves.
PwC's Colin McIlhenny shared the latest research data, which revealed that the spa industry has surpassed the $16 billion mark for annual revenues, and many other indicators are also on the upswing. In the last year, we saw a net gain of 1 spa per day in the U.S., very positive. However, challenges continue with staffing; an estimated 40,000 unfilled vacancies in the U.S. and 300 open spa director positions.
A highlight of the conference was closing keynote speaker, noted author and Ted-talker Simon Sinek, who enlightened us on the topic of leadership. Sinek's recounting of cultural anthropology and the science behind the human organism served as an excellent framework for the discussion of what makes successful leaders, and thus workplace environments that are highly functional. As Eric Stephenson had noted, humans function best in an environment where they feel safe, not just physically but emotionally. Sinek noted that workplace environments that don't feel safe cannot be fixed with a cleanse or more yoga, the change must start at the top. He framed human behaviors in the functions of four chemicals present in all of us; endorphins, dopamine, serotonin and oxytocin. These chemical compounds helped us to survive while the species was in caveman state, and they are still present today, although play different roles, helping with survival of a different sort. He emphasized that dysfunctional environments start with dysfunctional leaders, who are always claiming they've hired the wrong people, when the problem is usually facing them in the mirror. He closed his presentation by exhorting us to PUT OUR PHONES DOWN and be present to the moment, really present, with our co-workers, friends and family. It was an excellent presentation that everyone could relate to.
– By Lisa Starr