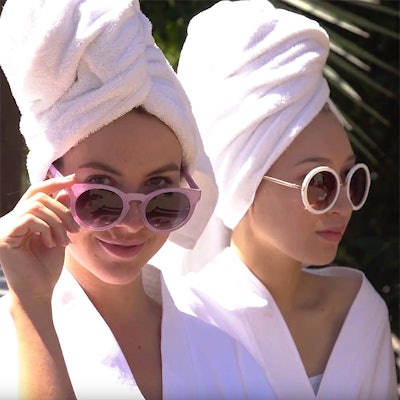 Participating wellness businesses design exclusive offers encouraging consumers to go beyond the basics, try something new and start a new good habit.
In the world of wellness, massages, facials and yoga are a given. But what about Tibetan Singing Bowls, Tumeric Lattes, Ayurvedic therapies, Himalayan Salt Rooms, Cryotherapy, Mushroom Powder Superfoods, Bokwa Fitness or Float Tanks? What would inspire you to take your body on those kinds of magical mystery tours? Lisa Michaelis, the visionary founder of the experiential B2B sales company LIVE LOVE SPA, thinks she knows the answer. Make the experience social … make it fun … and make the idea of taking the time to visit a wellness center or new workout class absolutely irresistible – and then package it all together in a special month of exclusive offers that help pull back the curtain on the many benefits of starting a new good habit. This August LIVE LOVE SPA will join with wellness businesses to launch the first annual Wellness Month celebration to do just that.
RELATED: Crystal Therapies Are Paving a New Path to Tranquility
Just as Restaurant Week has been so successful at luring food lovers to aspirational dining rooms in cities around the country, Wellness Month is meant to encourage the public to try out the wonders of aspirational spa-ing and healthy living. The upbeat video introduction for Wellness Month invites consumers to "grab a bestie … start a new good habit … blaze a new trail … stretch your limits… experience something new … Meditate, Reflect, Detox, Destress," while participating businesses in the wellness space are being invited to design alluring specials for their more unique offerings.
In line with the findings of a recent Wellness 2030 report that "Wellness is Social! — people do better when they get healthy together," Michaelis is also encouraging group events or multi-person offers for Wellness Month. Look for August specials like: Spa happy hours; buy-one-treatment-bring-a-friend-for-free; detox-with-a-friend specials at juice bars, themed yoga classes, group rates for Girlfriend Getaways with mani's, pedi's and champagne or even a Boy's Night Out with Beer and a Sauna or Soak. Live Love Spa is even encouraging participating businesses to create wellness events for their employees during August.
RELATED: Sleep Deprivation and How To Prevent It
Michaelis – a self-professed "A-type" and the ideal target market of the industry she has grown to love and be loved by — works closely with spa directors and practitioners as she creates events around the country to introduce them to the wide range of product brands in the wellness space. Her conclusion after seeing so many health-oriented businesses: there's no way a website or treatment or fitness menu can capture the reality of how great they can make you feel or how good they are for you. So she decided to create a shared platform to educate the consumer about the practical benefits of living well – all without forgetting the fun factor!
"My background is in the fashion, tech and gift industries," Michaelis explains, "and I have so many friends who still feel spa-ing is kind of mysterious. In fact, most of my team wasn't in the wellness industry before so there is often hesitation about trying something new, even if it's good for you. Each week I hear about some new, unbelievably creative and effective treatment, high intensity training, or mindful movement class that our partners have come up with, but if no one ever tries them out, it's all just words on a web page. During the month of August, we're encouraging spas, fitness centers and even healthy eateries to make sure to give people an extra added incentive to come on in and see how much fun feeling good can be!"
To help give the celebration continuity and spread the message of wellness to the masses, Michaelis had her team design Wellness Month branding materials for each participating business, like: signage, t-shirts, wrist bands, uniform pins, lapel badges, fans with the Wellness Month logo for easy Instagram #wellfie Selfies, website visuals and even temporary tattoos.