If the past decade has taught us anything, it's that probiotics are a big deal. Live active cultures found in yogurt, kefir, sauerkraut and other foods, probiotics are so-called "friendly" bacteria essential for maintaining a healthy digestive system and regulating immune response. Spa pros have long espoused the positives of taking probiotic supplements, but now some experts are claiming that these powerhouses may also offer benefits outside the kitchen. What works when consumed in probiotic pill or drink form, they argue, may also work when applied topically.
As a result, a growing number of skincare companies are creating probiotic products that they say can help calm the complexion, maintain moisture balance in the skin's barrier, and protect it from harmful bacteria. Clients with acne, rosacea, eczema and other inflammatory conditions in particular may benefit. DAYSPA turned to industry and wellness pros—including some skeptics—to find out more about this intriguing new field.
Beneficial Bacteria
Humans are essentially walking petri dishes, harboring billions of bacteria in our gastrointestinal systems. "When this bacteria is in balance, our body functions amazingly well," says Kristina Santoro, esthetician and wellness coach at Complexions Spa for Beauty and Wellness in Albany, New York. "However, internal imbalances caused by environmental toxins, processed foods, stress and drugs (such as antibiotics) create an overgrowth of bad bacteria. This imbalance results in inflammation."
RELATED: Blooming Lovely: Why Rose Is a Skincare All-Star
M'lisa Jackson, president of M'lis, explains that probiotics repopulate the gut with healthy bacteria. "It's believed that up to 95 percent of illnesses begin in the gut, so these microbes are necessary to control the population of hostile bacteria and yeast," she says. Karen Asquith, G.M. Collin's director of education, adds that probiotics prevent "bacterial interference," i.e., bad bacteria provoking an "inflammation-triggering immune response."
Given the known benefits of probiotic ingestion, it makes sense that companies are now starting to explore the notion that they might also work topically. Indeed, Teresa Stenzel, director of education for Bioelements, says topical probiotics encourage a healthy balance of friendly microflora on the skin— just as they do in the gut when taken internally—thus helping to ensure the surface barrier does its job. Steve Rosenfeld, president of Columbia SkinCare, agrees, explaining, "Pre- and probiotics have the capacity to optimize, maintain and restore the microbiota of the skin in different ways. Topical applications of probiotic bacteria have a direct effect by enhancing the skin's natural defense barriers."
Celeste Hilling, CEO of Skin Authority, concurs that, in addition to preventing inflammatory responses from surfacing, topical probiotics may strengthen the skin barrier. "They create a protective shield, thereby interfering with the ability of bad bacteria and parasites to provoke immune system reaction."
Natalie Pergar, international trainer for Éminence, points to the gentle quality of topical probiotics. "When placed on the skin, probiotics help alleviate congested skin and detoxify, without harsh chemicals," she says. Many experts see this as an asset when it comes to treating acne, as some other solutions combat breakouts by drying out the skin. Indeed, there are—so far—no known contraindications in healthy clients, and Rosenfeld points out that these so-called good bacteria "provide a range of benefits to all skin types." Continues Pergar, "Because probiotics are a natural ingredient, they can nurture and heal the skin without stripping the complexion of its innate moisture barrier. Topical application also encourages cell turnover, which may help prevent further breakouts."
Delivery 101
Today's current market primarily sees topical probiotics in mask, cream and cleanser form. According to Stenzel, pre- and probiotics combine well with peptides and antioxidants in creams, lotions and masks, and they can also be encapsulated within soy and rice milk proteins and made into serums. Santoro says that when recommending products to clients for soothing purposes, a serum or moisturizer that remains on the skin longer than a mask or a cleanser is a good place to start, and she explains that probiotics pair well with other calming ingredients like cucumber, aloe vera and turmeric.
RELATED: One on One With Lydia Sarfati, Founder and CEO, Repêchage
Asquith agrees that pre- and probiotics combine well with fellow protective actives to boost immunity and calm the skin. Pergar likes to mix probiotics with naturally astringent, antiseptic willow bark extract.
Most probiotics in skin care are derived from bacteria cultures found in milk and yogurt, Bifidus being the best known. Pre- and probiotics can be confusing to parse on products' ingredient labels, but Asquith points out that probiotics generally have "bacillus" in their name, such as the common Lactobacillus ferment. Pergar echoes this sentiment, adding that probiotic Bifidobacterium is also frequently combined with other microorganisms. Santoro explains that skincare products sometimes just list the ingredients' delivery systems, "which is why you'll simply see 'yogurt' as an ingredient."
Rosenfeld notes that certain plant stem cells and amino acids have the ability to potentiate well with probiotic ingredients, generating outstanding skin renewal results in particular.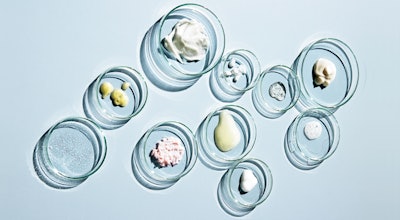 On the Horizon
Although there's clearly a lot more research to be done in this fledgling field, some studies suggest that probiotics may work well when combined with conventional treatment avenues. Marci Clow, a nutritionist based in Santa Cruz, California, points to a 2014 report from the American Academy of Dermatology (AAD) that found that probiotics could help control rosacea flare-ups when used in conjunction with medication. The same study, whose information was provided by Whitney P. Bowe, MD, FAAD, a board-certified dermatologist and clinical assistant professor of dermatology at Icahn School of Medicine at Mt. Sinai Medical Center in New York, also cited a Korean study of 56 acne patients that found that drinking a Lactobacillus-fermented dairy beverage effectively reduced their total acne lesion count and decreased oil production over 12 weeks.
PHOTOS: Sublime Serums to Keep Your Skin in Tip Top Condition
Santoro adds that acne has been shown in one study to respond well to a combination of internal and topical probiotics. "Promising studies from the AAD show they restore the lipid barrier, thus suppressing changes in transepidermal water loss, skin hydration and photo-aging."
Rosenfeld says his company is testing probiotic products for their significance as an adjunct to medical treatments such as Botox and chemical peels. He adds, "A recent European medical journal article has identified the future use of probiotics to be heading in the direction of topical use. Although ingesting probiotics will continue to be most effective in reducing the symptoms of diseases such as IBS and colitis, the authors of the European study have indicated that the ingesting of probiotics is rather primitive when compared to using it topically."
Asquith says researchers are looking further "to ascertain whether aging skin could benefit from pre- and probiotics," and Hilling says early research shows probiotic Lactobacillus to have had a successful impact on acne and psoriasis. She adds that "Johnson & Johnson is currently working with The University of Manchester in the U.K. to explore the effects of topical applications of probiotic extracts for prevention and treatment of skin and other conditions."
One thing's for sure: Pre- and probiotics are a research hot button. "As we become increasingly aware of how much 'we are what we eat,'" Santoro says, "the importance of gut health is becoming a major area of focus. I think probiotics are just getting started." Adds Jackson, "Consumers are seeing benefits in their digestive wellness, immunity and skin health—this is a growing market."
–By Katie O'Reilly