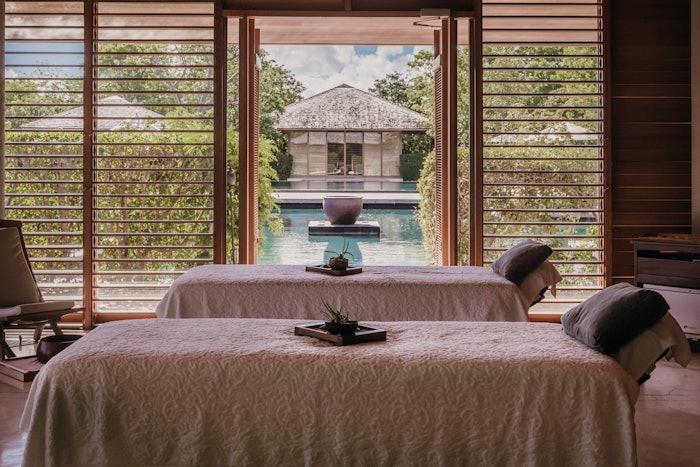 Caribbean wellness destination Amanyara has introduced new Wellness Immersions for 2022.
Amanyara will bring in practitioners in various disciplines to elevate the resort's sought-after Wellness Immersions (introduced in 2021). Each month, the property will host a different guest practitioner.
Programs are fully customized to each guest's wellness goals and length of stay, and include private movement and specialist therapy sessions, spa treatments and nutritional support.
Guest practitioners include:
Geshe YongDong, Buddhist spiritual master and scholar will host the Journey to Peace retreat, personally guiding guests toward spiritual enrichment and inner tranquility. Guests will experience the the mineral-rich waters and chakra-cleansing ocean air of Turks and Caicos.
 Geshe La, who has achieved the highest spiritual monastic degree in Buddhist philosophy, will teach practical skills for finding peace in everyday life. Techniques include calming breathwork, Tsa Lung exercises, mindfulness practices and meditation to promote inner peace.
Don Saladino, fitness coach, known for his work training celebrities and his TV appearances and live fitness demos.
Michael J. Breus, PhD, double board-certified clinical psychologist and sleep specialist, is the author of The Power of When, which shows readers that there is a perfect time to do everything based on biology.
Erika Bloom, founder of Erika Bloom Pilates, will share her method of movement-based healing to restore holistic balance to the body and mind. Passionate about working with women throughout all stages of life, she is a trained doula and pre- and postnatal Pilates and yoga specialist.
Kelsey Patel, wellness and reiki expert, is the creator of The Pure Joy App, host of The Magik Vibes Podcast and author of Burning Bright: Rituals, Reiki, and Self-Care to Heal Burnout, Anxiety, and Stress. Specializing in various healing and empowerment modalities, she is known for her simple yet profound support in helping people deal with burnout, pain, anxiety and stress.