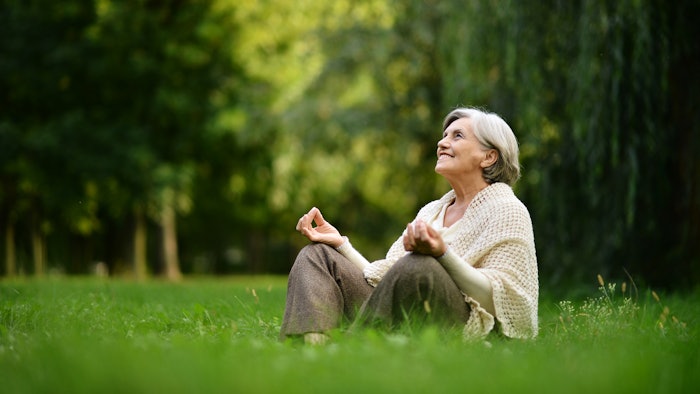 Most of my mornings when I get up, I look in the mirror and feel a huge WOW. Wow – what a wonderful healthy, beautiful looking body I call mine. I marvel at the fact, that for 71 years now, this magnificent body which exists of cells and blood vessels, of muscles and tissue is a true miracle. I often catch myself speaking with my stomach, asking how on earth it could take in all that it had to take in before I changed my lifestyle to eat and live healthy. I wash my hair and I think – for so many years, this hair keeps growing – no matter what I do with it. My skin is protecting all of my being – as the largest bodily organ, it has a tremendous job. I look into my face, and I see a woman I came to honor and love. I see a face that has aged of course, but I like it! In fact, I like it better at age.
A Journey Towards Freedom
This was not how I felt, when I turned 40. I freaked out when I discovered the first signs of change in my body. It was a deep shock and took me some time to get over it. When I turned 50, I did not want to feel the number, so it was all about a big party and being seen and celebrated. Turning 60 was easier. I had so much on my plate during that time that there was no time to be upset about a number. My life was exciting more than ever, because I had found who I really am. I also felt the freedom. Being older meant that I gave up thinking about what other people thought of me.
Turning 70 was interesting. It was a shift from age to eternity. I remember that I decided to live in the here and now. More pleasure, more time for my holistic practices, more core-fitness, more fun, more laughter, less worry. That was the year Covid 19 hit the world.
The Gift of Getting Older
I want to urge everyone, especially woman, to stop thinking about age as a disadvantage or worse, an illness. The moment I decided that getting older is a gift wrapped in gratitude, I felt so much better. So much of life´s burden comes from unnecessary thoughts, as you get older you come to realize this and can let go of your mind´s chatter. Freedom, at last and time to count your blessings!
Aging means to grow. It means to become free. It means to become more aware. It means to love yourself for who you are. It means to let go of the obsession about the body, the looks, to be less concerned with achieving things. As we know, praise and blame are two sides of the same coin. With age, you see through much more of what life is about and you can wave your inner critic goodbye.
It is said, that the only person who can love you most, is yourself. Love works from the inside out. So, I am taking very good care of my health through exercise, nutrition and by finding a balance between work and play. I rely on ancient healing systems such as Ayurveda or TCM. For example, I benefit from massages, acupuncture or vitamin infusions, to nourish and replenish my total being. My partner in life and also co-founder of Healing Hotels, Elisabeth Ixmeier has an interesting outlook on aging. She says: "I spent so much time in meditation, where I experience a state of being and where thinking stops, that all those years added up, loose their meaning. In essence, I always feel young."
Healing Programs for Grateful Aging
With Healing Hotels of the World, we have brought together hotels that bring our vision of a holistic healing experience to life regardless of your age. They are located in spots of natural beauty offering healing treatments by experts in their field. Once your senses can imbibe in beauty and positivity, you can connect with it in your inner landscape. Tailored to your need, you can benefit from programs that range from a three-day retreat to programs that last a week or longer. There are several properties that focus specifically on the concept of healthy and grateful aging.
One of the resorts utilizes the ancient practice of Ayurveda with a seven-day program titled "Fountain of Youth Rejuvenation Week." The Ayurveda Resort Sonnhof, located in the stunning Tyrolean Alps, uses special oils to ensure a clear complexion and soft skin. The deep treatments warm up the body and promotes the removal of waste products through Abhyanga (full body massage), Vishesh (energy massage), Shirodara (flowing oil treatment), Padabhyanga (Ayurvedic food massage) and more. The cost for this week of blissful treatment is $1236 (excluding accommodations.)
At the gorgeous Euphoria Retreat in Greece, a seven-day healthy aging program is also offered. During the week, you will receive nutritional guidance, reflexology with face rejuvenation massage, chakra balancing or reiki, forest walks, a quartz compress massage, transformation consultation and hydrating lifting facial, among other treatments. The total is $2156, including accommodations and boarding.
If you cannot carve out a week, and prefer shorter treatments, you can head to the famous Canyon Ranch Spa with locations in Lenox, Mass and Tucson, Arizona in the U.S. At Canyon Ranch, several natural treatments are offered. The most exotic is the KNESKO Gemclinical® Facial. This treatment integrates science with the healing powers of gemstones and reiki energy. Specifically used to address visible signs of aging and uneven skin tone, the treatment also helps to re-balance chakra energies within the body. This is 50 minutes in length and costs $185.
Also priced at $185 and 50 minutes long is the Vitamin Infusion Body Treatment. This hydrating and exfoliating body treatment features Environ® products which focus on signs of aging and enhances the appearance of the skin. A removal of dead cells using lactic acid is followed by an application of lotions containing vitamins A, C, E, and beta-carotene. A seaweed masque on the most sun damaged skin is also administered.
And finally, for a longer, more intense treatment, you can experience the Biologique Recherche Resculpt. It is 80 minutes in length and provides facial therapy using clinical grade products, micro-current Remodeling Face technology, and sculpting massage techniques which tone, tighten and reshape the facial contours. This treatment is the most expensive at $315.
These are just three properties from the Healing Hotels of the World resort collection that run programs that are specifically focused on healthy aging. All of the therapies and philosophies are amazing. But, I must return to the inner power, the state of mind. Aging is also about finding a passion for living and the excitement to discover what each new day brings. Every day can begin with a WOW: Wow, thank you for being you!