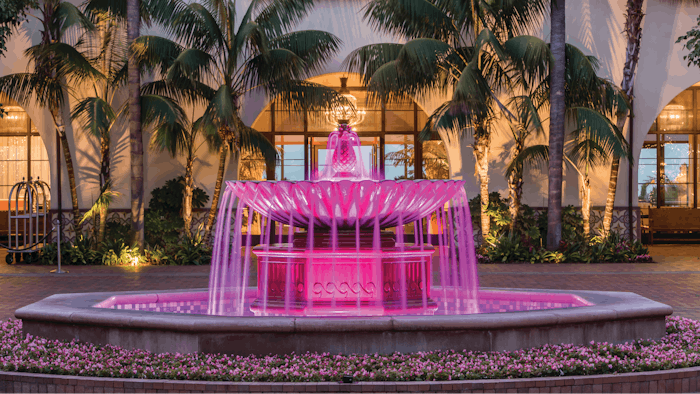 Photo courtesy of Terranea Resorts
Terranea Resorts is hosting its eighth annual Terranea Turns Pink initiative from Oct. 1-31, 2022. The Southern California resort will donate a portion of proceeds from offerings including spa treatments, ocean activities, ONEHOPE Wine Rosé, pink desserts and more to support breast cancer awareness and research.
The donated proceeds will benefit breast cancer organizations Cancer Support Community South Bay and Play for P.I.N.K. 
Related: Pure Fiji Donates Proceeds to Susan G. Komen for Breast Cancer Awareness Month
5 Specialty Offerings
Stay: For every stay in October, Terranea welcomes guests to support its fundraising efforts, with an accessible option to donate to breast cancer support and research upon booking. 
Dine: The award-winning culinary team has created special Terranea Turns Pink food and beverage offerings, including a selection of rose-hued desserts, ONEHOPE Wine Rosé by the glass and Tanteo margaritas. ONEHOPE Wine and Tanteo will be matching donations for each beverage.
Relax: Guests can relax and rejuvenate at The Spa with a signature body treatment, and a donation from each treatment will go to breast cancer support and research. The Spa will also provide breast exam cards to raise awareness for self-care, as well as a special Pink Boutique, with retail proceeds also being donated.
Shop: 10% of all purchases of Apothia Pink IF roll on perfume and 10% of all purchases of pink logo caps will be donated to breast cancer support and research.
Adventure: For every archery activity booked in October, Terranea will donate in support to breast cancer support and research. Palos Verdes Archery Lessons will match each activity donation. 
3 Seasonal Events
Sound Series at Terranea Resort: Terranea celebrates Breast Cancer Awareness Month with a special edition of the Sound Series at Nelson's, with live music, local craft beers, gourmet creations and cool ocean breezes. A a portion of proceeds benefit Cancer Support Community South Bay and Play for P.I.N.K.
ONEHOPE Wine Tasting: In celebration of the full moon, yoga enthusiasts of all levels can practice under the warm summer night sky. Donations will be made to Cancer Support Community South Bay.
8th Annual Birdies for Breast Cancer: City of Hope South Bay and Providence Little Company of Mary will host this event at Terranea Resort's oceanfront golf course. Guests can play a round and enjoy food and drinks, a silent auction and on-course contests, with proceeds benefiting Cancer Support Community South Bay.
"We are honored to partner with our local community and resort guests as part of our eighth annual philanthropic campaign to advocate for breast cancer support and research," says Ralph Grippo, president at Terranea Resort. "This month-long Terranea Turns Pink initiative allows guests to participate through a variety of extraordinary offerings across the resort, including oceanfront adventures, decadent dining, specialty cocktails, spa treatments and more, all in support of the tremendous cause."