While beekeeping is often thought of as a hobby in the United States, in many countries around the world, beekeeping is an important livelihood that can provide income to a family in need and place them on the path toward sustained economic success.
In addition to providing nutritious honey, beehives provide beeswax that can be used in the production of candles. Bees also help pollinate and grow healthier crops, extending the benefits of beekeeping to an entire community.
In the Dominican Republic, a group of 15 farmers were given 15 beehives through the World Vision Gift Catalog as a means of earning extra income. Those 15 farmers have now formed a beekeeper association and have expanded their enterprise to 30 hives across two locations. Because of these hives and the proceeds from the sale of 60-70 gallons of honey the group extracts each month, these farmers are now able to provide for their families, including enabling their children to attend school, and overall advance their prospects for building a safe, happy life.
For $150, readers can donate a beehive in the name of a loved one through the World Vision Gift Catalog. The gift will include essential beekeeping supplies such as a veil, gloves, smoker and training.
The recipe for Honey Flan, below, serves as a reminder of the value of honey for communities in need around the world, and can spark discussion around the holiday table about sharing one of the sweetest gifts to provide for the needs of others.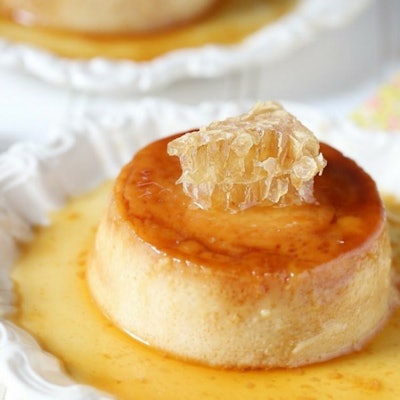 Honey Flan 
Recipe created by Melissa Bailey on behalf of World Vision 
Ingredients: 
6 eggs 
1 can (12 oz.) evaporated milk 
1 1/3 cup honey 
1 teaspoon vanilla extract
Instructions: 
1. Preheat oven at 350 F. 
2. In a pan, place ⅓ cup of honey, plus two tablespoons of water over medium heat and mix well. Once it starts bubbling, start whisking it to avoid caramelization. Keep an eye on this mixture and remove it from pan when it turns golden brown but not burnt. 
3. Once the honey is caramelized, quickly before it settles, pour enough caramelized honey to create a thin layer on the bottom of 6 (6 ounces) ramekins. Keep ramekins aside.
4. In a large bowl, whisk well all the ingredients, making sure there are no lumps. You could use an electric mixer or blender if you would like. 
5. Pour equal parts of this mixture into each ramekin. 
6. Cover each ramekin with aluminum foil. 
7. Place the ramekins in a bigger baking dish with water to bake it in a bain-marie. 
8. Bake for 1 hour. 
9. Refrigerate for at least four hours or overnight. 
10. Run a knife around the inside of the ramekin to loosen then flan. Cover the ramekin with a plate, and flip shaking once firmly but carefully to make sure the flan comes of the ramekin onto the plate. 
11. Enjoy!