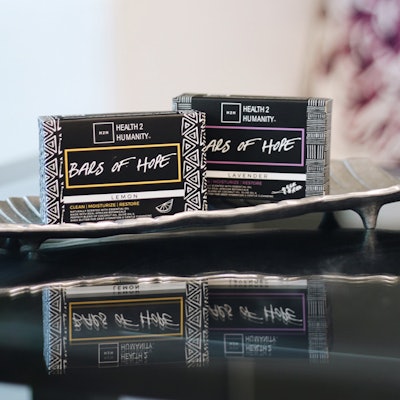 The two companies will provide socially conscious products to over a dozen Spavia locations across the country.
Health 2 Humanity Corp. (H2H) has officially partnered with the luxury Spavia Day Spa chain to provide socially conscious products at more than 10 locations nationwide. H2H's Lavender, Peppermint, Lemon, and Natural Unscented vegan, non-GMO, cruelty-free and hypo-allergenic soaps will be available for purchase at Spavia locations in California, Colorado, Illinois, Kentucky, Nevada, New Jersey, New York, Ohio and Texas.
Health 2 Humanity's domestic soap sales directly fund the Health 2 Humanity Global team's efforts in Africa, providing sustainable hygiene solutions, entrepreneurship and job training opportunities in developing countries. The medium used to grant these entrepreneurial trainings in micro-business management is the sourcing, manufacturing, and marketing of hygiene and beauty products in the U.S. By empowering international entrepreneurs to produce soap and other hygiene products cost-effectively and donate and sell these products to individuals, charities and community centers in their local regions, we have already seen a drastic decline in illness rates of up to 25 percent (25%) in H2H sponsored areas.
"We are proud to align with H2H's mission to eradicate preventable diseases in developing countries," said Spavia Day Spa Founder Allison Langenderfer. "Premium soaps are already a high demand product for our spas, so to bring in a premium soap brand with a socially conscious model that has an international impact, is an added bonus for our guests to feel really good about the products they want to purchase anyway."
H2H offers an aromatic bar soap using a superior oil fusion, paired with high quality essential oils and exfoliating African botanicals. The moisturizing agents include coconut oil, shea butter, castor oil, and other natural oils, leaving even the most sensitive skin soft and revitalized.
Over the years, Spavia has made a consistent effort to partner with social causes, and has now made the move to send a helping hand overseas by enhancing Health 2 Humanity's opportunity to create a lasting sustainable economic and hygienic change.