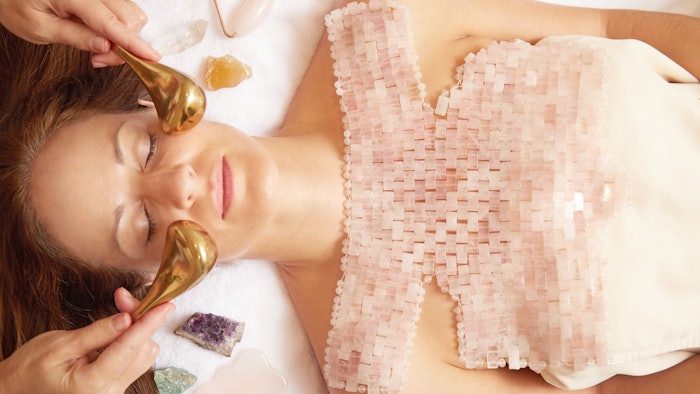 Courtesy of Conrad Los Angeles
When pregnancy hormones cause your skin to go haywire, what can you do? Get a facial of course! 
It's true—once the initial "pregnancy glow" wears off, those hormones can create all sorts of problems. At about 7 months pregnant, I didn't even know what to say about my skin. It was less oily than usual but super congested; not too dry but had lots of texture... I wanted to prevent pregnancy-related melasma, but had to do it gently thanks to extra sensitivity. 
Yep, I felt like my complexion was just a big mess! So, when I received an invite to the new Conrad Spa at the Conrad Hotel Los Angeles, I jumped at the chance for some prenatal pampering and super luxe skin therapy. 
Conrad Spa is an innovative mix of classic spa design and high-tech features. I was checked in and given a tour by attendant Devon, who walked me through the Recovery Cabins that contain health mats, LED therapy, lymphatic drainage pants and stunning views of dowtown LA.
I couldn't use the gorgeous sauna, of course, but it was totally beautiful and serene. Devon dropped me off in the relaxation lounge, which includes QR codes that allow you to download tons of reading material straight to your phone. 
But it was time for my facial! Esthetician Vanessa arrived and led me to the treatment room. We discussed my skin concerns, and she came up with a tailored plan: Typically the spa's Rose Goddess Facial features Angela Caglia products, but some of the therapeutic essential oils can be a little too activating for reactive prenatal skin.
Related: Adding Rose Quartz to Spa Treatments
So Vanessa switched out some of the products for gentler options from Augustinus Bader. (The brand's skin care also tends to have earthier, lighter aromas, which was nice considering my sensitive nose.)
After making sure I was comfortable on the table (head elevated!), Vaness began the super luxe treatment. First off was a double cleanse with a rich balm, plus a gentle massage under steam. 
Then, she placed a lovely rose quartz mask across my chest. Not only was the weight immediately relaxing, but I know that the crystal energy was infusing me with love and gratitude. 
Next was a physical scrub exfoliation, followed by the gentlest extractions I have ever received. Vanessa's technique was totally pain free and, honestly, not uncomfortable in the slightest. She even managed to work out a blemish that had been bothering me for days and I barely noticed! (She also made sure it was super clean to avoid it coming back.)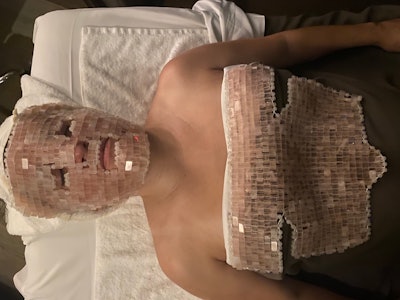 Vanessa placed a cool, rose quartz mask on my face and performed a truly divine neck and shoulder massage that left me in a total state of bliss. She removed the mask and set up the Poly LED light therapy panel. The intensive session lasted 15 minutes, during which time I dropped off into sleep. 
I'll be honest: At this point I was basically floating, so things are a little hazy.
After the LED, Vanessa massaged in a facial oil, then performed an eye treatment with oil, a gentle yet soothing periorbital massage, then the rose quartz eye mask for just a few minutes.
Next was a cool quartz gua sha face massage using a serum and mushroom-shaped stones, followed by a more intensive gua sha massage with flat stones and more serums. (I should point out that, surprisingly, this was my first gua sha experience ever, and I could have sat there and enjoyed it for hours!)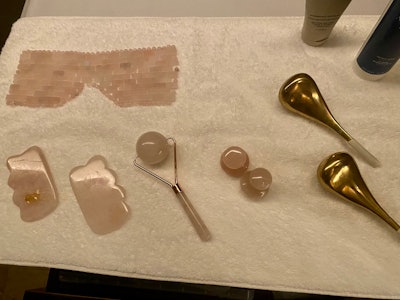 Vanessa finished this portion off with a calming cryo globe massage and a final lymphatic drainage massage. She applied some SPF and, after gently waking me up, escorted me back to the lounge. 
As relaxed and sleepy as I was after the treatment, I still immediately clocked my glowing complexion. Each massage portion encouraged microcirculation and lymphatic drainage, and it made a huge difference! I left looking and feeling amazing, with super healthy-looking skin that shone for days.