RELATED: Spa Pros Share Their Favorite Antiaging Treatments
Nutritionist Tracee Box, co-owner of Nature's Root in Longmont, Colorado, says people are drawn to the organic sustainable destination spa in part because it has such a wide range of 100-percent hemp-based products. "Hemp is an extraordinarily healing plant that nurtures the skin and body," she says. "Clients are attracted to its natural anti-inflammatory and pain-relieving properties." Nature's Root carries body lotions and scrubs created from hemp seed pressed oil, as well as a therapeutic line that is the heart of several popular massages and facials. The spa's Back Facial (60 min./$110) is designed to exfoliate, nourish and target specific skin concerns. "A coffee scrub sloughs off dead skin, preparing it for cleansing and extractions. The service finishes with the application of hemp oil, which is very soothing and adds a protective barrier against future breakouts," explains Box.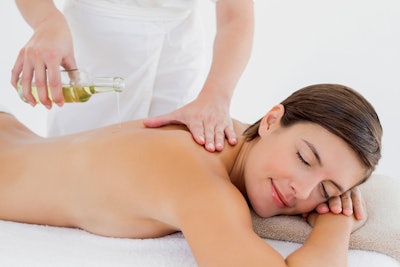 The greatest benefit of a CHABA Massage (60 min./$90; 90 min./$125) is relief from sore muscles, although it can also alleviate pain from other ailments including migraines, fibromyalgia and arthritis, says Ciana Hilton-Farmer, LMT, owner of The Studio Massage in Renton, Washington. CHABA, an acronym for Cannabis Health and Beauty Aid, is infused with either hemp or marijuana-extracted CBD containing less than 0.3 percent THC. "It has a warming effect on the body," explains Hilton-Farmer. "My clients all notice it. They definitely experience a deeper relaxation with it."
RELATED: Spa Pros Weigh in on the Benefits of Enzymes
Robert Robinson, manager of Veda Salon and Spa in Denver, notes the importance of correcting guests' misconceptions that cannabis or hemp in spa services will cause them to experience a high. "We explain that there is no THC in the products we use," he says, "and we clarify what the cannabis oil can do for them." The spa's most popular treatment is the soothing Mile High Massage (60 min/ $135; 90 min/ $185), which incorporates four CBD-based massage oils for muscle relaxation, pain relief and rejuvenation.
Clients also report what Robinson terms "a sensory awakening" as the therapist works the oils deeply into their muscles. "It a warming, calming sensation that heightens the skin's sensitivity," he adds. "It leaves clients feeling much more relaxed and refreshed than a regular massage."
At the other end of the spectrum is Dee Dussault' Ganja Yoga in San Francisco. Ganja Yoga (90 min./$25-30) is a class in two parts: a get-together beforehand to consume and learn about the cannabis (which is organic and produced by small local farmers), and then the slow, relaxing yoga itself. "The main benefit of Ganja Yoga is its ability to draw people more deeply into their bodies," says Dussault. "By bringing the awareness into our bodies, we can develop a better sensitivity to both pleasure and pain signals." She stresses that while yoga itself brings relaxation and embodiment, its effect is enhanced when combined with cannabis and its wellness benefits. "Relaxation is a profoundly transformative and absolutely required thing," she says, "but we barely cultivate it in our daily lives. Anything that helps with that is a medicine and spiritual tool."
–by Mary Ann Anderson
With the high-profile legalization—and growing public acceptance—of recreational marijuana in certain states, it seems logical that the plant would eventually find its way into the spa for myriad reasons, primarily pain relief. What therapists and clients alike must understand is that there is a huge difference between cannabidiol (CBD) and tetrahydrocannabinol (THC), the two key cannabis components. Simply put, THC gives you a buzz, whereas CBD doesn't. The body actually produces its own cannabinoids, called endocannabinoids, that help manage sleep, immune response and pain, and CBD can guide the body to use its own endocannabinoids more effectively. CBD is non-psychoactive and may be used for analgesic, anti-inflammatory and anti-anxiety purposes—which, of course, makes it perfect for a spa setting.