Spas around the country are getting their clients ready for swimsuit season with these shapely summer treatments.
What steps are involved in your most popular body contouring service?
Laura Bettge, owner of Body by Laura B in Waco, Texas: Our clients love the M'lis Contouring Wrap, which we sell as individual services ($125 for 90 minutes or $140 for 120 minutes) or at $110 each for a series of six. After a consultation and measurement-taking, we apply an enzymatic exfoliator, which dilates capillaries to enable nutrients to reach the cells. We don't need water to remove the product—we simply dust off any excess gritty particles with a towel. Next, we apply a contour cream, which hydrates the body, removes toxins trapped in the connective tissue, cleanses the liquid waste system, increases skin elasticity and improves firmness. The client is wrapped and placed on the massage table for about an hour, during which add-on services can be performed. The full-body wrap isn't a water-loss or compression wrap: The film looks like plastic wrap but is stronger and thicker, and traps the body's heat to allow circulation toward the surface. No additional heat is applied after wrapping because the product needs to penetrate, and sweating would decrease that activity.
RELATED: Spa Industry Leaders Reveal Trends and Challenges for 2017
Vidalina Malaise, owner of Bella Vida Mediterranean Spa in Weston, Florida: Our most popular service utilizes the PR Cell by Silhouet-Tone, which combines deep subdermal suction massage with the French technique of palper-rouler. It draws the skin up and gently rolls it to release lymphatic blockage and soften the connective tissue that causes cellulite's dimpled appearance. Individual 60-minute treatments cost $70, or between $50 and $65 if sold as part of a package. For better results, we steer clients toward our ultrasound treatments, which deliver focused ultrasound waves to target and break down fat cells without affecting the surrounding tissues and organs. Treatments last 30 minutes and cost $60 individually, or $50 when purchased in a package.
Sandi Romero, owner of Massage Life Center in Coppell and Highland Village, Texas: Our clients love the FIT Bodywrap, which pairs perfectly with our massage services. A 60-minute session is $49, but we also offer cost-effective packages such as 12 treatments for $300. The wrap employs infrared to help deliver a number of benefits, from pain relief to detoxification to weight loss. We also service bodybuilders and bikini competitors, who report that the wrap helps with cellulite and improves their skin's overall appearance. Other clients who are going through detox programs have expressed that FIT sessions help them sweat out toxins.
Heather Walters, vice president of marketing for ME SPA in Santa Rosa, California: Guests love our Herbal Body Contouring Treatment, which utilizes the Bioslimming wrap by Provence Cosmetics and costs $149, or $745 for a course of six. The service is designed to eliminate toxins and redefine curves naturally using a blend of essential oils and plant extracts. Our 80-minute wrap ritual detoxifies, increases circulation and breaks down fat deposits to tone and fi rm the legs, tummy and arms. For a true spa experience, we include a complimentary balancing reflexology foot treatment and soothing scalp massage.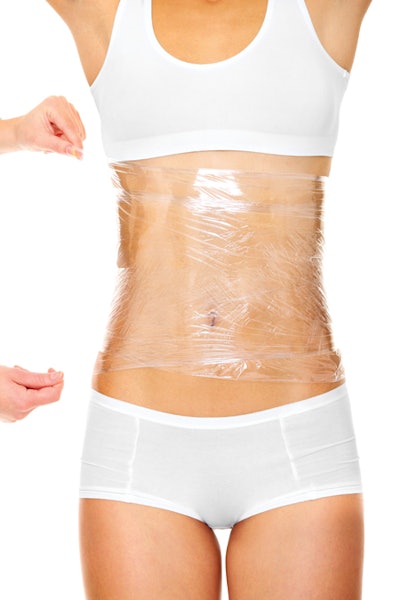 How do you educate your clients about these services and maximize their results?
Bettge: We always say that the body wrap works best by following the suggested inch-loss plan: Starting up to one week prior to the service, the client uses the internal M'lis Total Body Cleanse program and drinks at least half their body weight in ounces of water daily. A body wrap consent form helps them prepare before and after the service, providing do's (use the take-home maintenance kit, practice a healthy lifestyle of exercise and proper diet to maintain inch loss) and don'ts (don't apply lotion or shave your legs on the day of service).
Malaise: To achieve the best possible results, we encourage clients to focus on living a healthier lifestyle by reducing sugar consumption and increasing water intake, as well as adding more fruits and vegetables to their diets. We also recommend a minimum of three days of exercise per week. Committing to two or three weekly appointments is also crucial for obtaining clear results because the treatments are most effective when appointments aren't too spaced out.
Walters: Our therapists take measurements throughout the treatment process and guide guests through each step by breaking down expectations. Although stand-alone treatments offer a wealth of benefits, we suggest a course of 6 to 10 wraps over four to five weeks to maximize results. We also recommend the Bioslimming Homecare Trio to target problem areas, along with a healthy diet and lots of water to help speed up metabolism.
How does offering body contouring services boost your bottom line?
Bettge: The M'lis products are backbar-friendly and we use them during all our body contouring services. Many of our clients are athletes—from CrossFit devotees to yoga instructors—and their goals vary from releasing fascia for improved performance and range of motion to relief from fibromyalgia and cellulite reduction. The wrap can be a stand-alone service or combined with other nutritional programs: Truly, there's not one person who wouldn't benefit from these types of products, services and supplements.
Malaise: One of the biggest benefits of providing body contouring services is the advance sales income through packages. Clients often get really excited when they see results and are quick to purchase a follow-up package, which we offer at a lower 'maintenance' price. Selling multiple packages has allowed us to quickly recoup our investment in the machines and products.
Romero: Once you pay for the equipment, the ROI is great. The FIT requires little assistance from our staff, so every session can end up providing close to 90 percent profit.
Walters: Adding a service that can physically transform our guests was a no-brainer for us when we revamped our menu last fall. Spagoers are very savvy these days, and they want treatments that are equal parts relaxing and results-driven. By offering an inch-reducing treatment that requires a commitment of 6 to 10 visits over a short period of time, we simultaneously boost our revenue potential while boosting clients' confidence—and that's a definite win-win!
Body Contouring Helpers
–by Tracy Morin