Named after the island of the gods, Vabali Spa offers a heavenly getaway in the heart of Berlin.
Location: Berlin
Owner: Theune Spa Management
Opened: 2014
The Space: 238,806 square feet, with 9 treatment rooms, 10 saunas, 3 steam baths, 2 day spa suites, 2 lounges, 3 outdoor massage pavilions, hot and cold pools, sundecks, yoga studio, sleeping rooms and restaurant
Staff: 1 spa director, 7 managers, 35 massage therapists, 50 spa attendants, 40 receptionists and 50 restaurant employees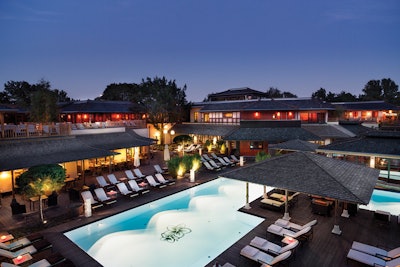 The Distinction
Tucked away in a sprawling, idyllic park, Vabali Spa offers a Bali-inspired world of remote relaxation located just steps from Berlin Central Station. Long teak walkways lined with bamboo bushes lead into the spa, which is adorned with stone statues and elaborate wooden carvings. The design focuses on environmental sustainability and elegance. "High-quality, recycled wood imported from Bali creates warmth and a sense of wellness," says managing director Cornelius Riehm. "It's what Balinese culture stands for and what we want to offer: deep relaxation in an authentic atmosphere that feels like a mini-vacation."
Each day spa suite consists of a pair of massage tables, a bathtub for two and a private terrace. There are also warm and cold pools, sun decks and darkened sleeping rooms with waterbeds. Three outdoor massage pavilions provide refreshing views of numerous gardens, lawns and enormous trees in the adjacent park. The spa aims to provide holistic healing, offering special relaxation rituals and Asian remedies like hot stone massage and immersive, meditative sound journeys.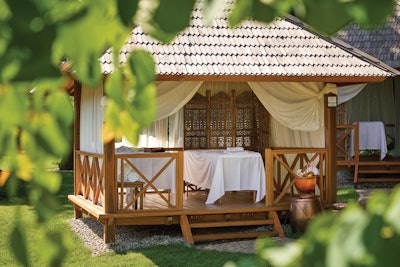 Capturing Clientele
Vabali attracts a mix of locals and tourists seeking to escape the hustle and bustle of the city. According to Riehm, customer satisfaction is of central importance. "Happy guests are the most effective and sustainable marketing instrument," he says. "Many of our visitors come to us through word of mouth."
To keep spa-goers interested, management frequently connects with them about how to improve their experience. "Just last year we added 16,145 square feet to the wellness area because people said they wanted more space to relax," says Riehm. The spa also customizes treatments and constantly revises its menu, going the extra mile to keep offerings unique. "Our aim is to delight our guests and create special moments for them," adds Riehm.
Other marketing methods include advertising with local partners and media, and engaging with influencers. Vabali frequently hosts special events as well, including readings, yoga workshops and live music performances. Recently, it held a "travel slam" where writers and bloggers could share their work.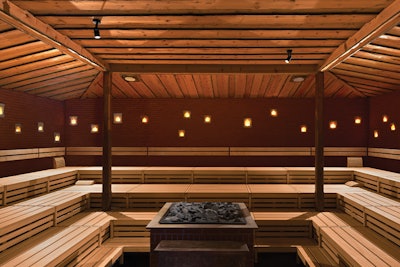 Management M.O.
As the largest spa in the country, Vabali employs nearly 200 people. "Together, they contribute significantly to the success of the spa," says Riehm, noting that the staff is encouraged to actively listen to customer feedback and not wait for direction from management. "The entire team is attentive and committed, which is viewed positively by our guests and keeps them coming back."
Riehm also stresses the value of open, clear and effective communication to keep staff involved and motivated. "When you talk with them openly and share the latest developments, your employees feel valued," he says. "It also builds trust in management and adds to a sense of being part of a team, because each person knows how they contribute to the spa's success."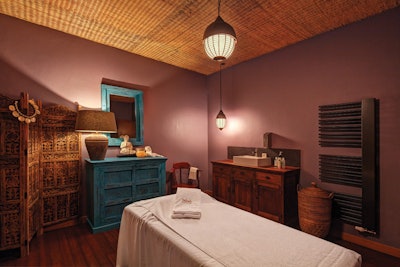 In-Demand Services
The invigorating Full-Body Massage with Salt Scrub (50 min./$75; 80 min./$110) is a favorite among spa-goers. First, the therapist gently kneads and stretches the client's muscles, slowly easing tension and releasing blockages throughout the body. Next is a detoxifying scrub massage using sweet- smelling oils like rose blossom, sugar or honey with salt grains to exfoliate and replenish the skin, leaving it soft and supple with a rosy glow. Guests can further enjoy the treatment's revitalizing benefits by experiencing it in one of the spa's new outdoor massage pavilions.
The Goods
The spa uses Senti products in body treatments and wellness services; Dragonspice in the sauna; and PINO signature essential oils for aromatherapy and scrubs.
–by By Stephanie Kramer
[Images: Courtesy of Vabali Spa]
This story first appeared in the February 2020 issue of DAYSPA Magazine. To receive the magazine,
subscribe here
.