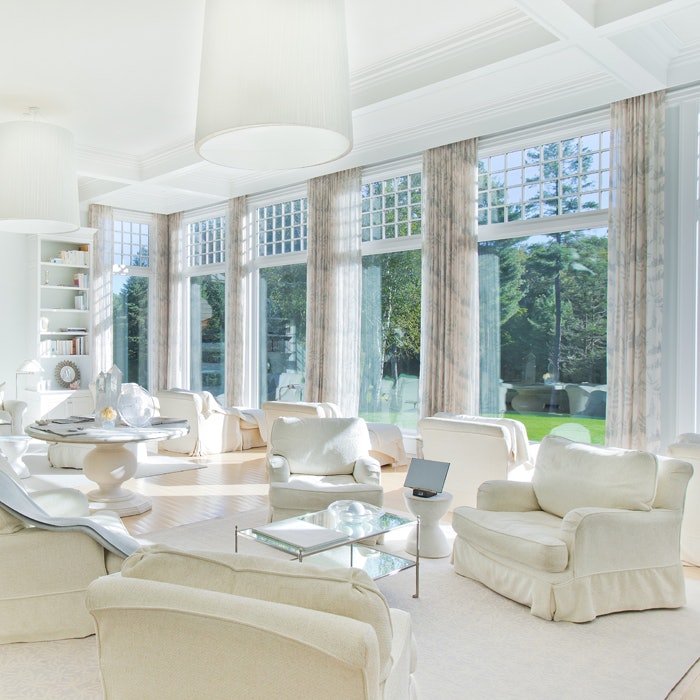 These carefully crafted spa spaces help to promote calmness. 
There are thousands of impeccably designed spas across the country, tucked in island resorts, stationed on bustling downtown corners, among high-end hotels, along wooded country roads—and everywhere in between. We wish we could showcase them all, but for this story we narrowed down the field and selected 12 standouts: day and resort spas throughout the U.S. that have infused their indoor and outdoor spaces alike with intense thought, a honed vision and refined taste. We hope you're as taken by them as we are.
The Space: Relaxation Area & Nail Bar
The Spa: The Amethyst Spa & Nail Bar
Location: Charleston, South Carolina
"Our jewel box-inspired spa draws upon the elements of amethyst and quartz crystals but also incorporates the historical exposed brick walls of our building. We chose to decorate using mauve, gray and lavender tones, a color palette that promotes patience, calmness, peace and balance. We've strategically incorporated amethyst—which has a spiritual protective energy—throughout the spa. Our nail bar's crystal chandelier ties everything together, turning our spa into what we refer to as a 'Jewel of the South,'" said spa consultant Daisy Tepper. 
The Space: Waiea "Water of Life" Garden
The Spa: Hualalai Spa at Four Seasons Resort Hualalai
Location: Kona, Hawaii
"Across our entire spa, we have integrated tropical gardens with cool interior spaces to create a haven that feels distinctly Hawaiian. Guests are encouraged to relax pre-or post treatment in our open-air garden. Next to a quiet stream and under the shade of lush foliage, they can lounge, listen to the soothing sounds of the waterfall, smell the fragrant cinnamon gardenia and treat their feet to reflexology with a walk along the pebbles in the cool water," said spa director Crystal Poe-Cabatbat. 
The Space: Crystal Grotto
The Spa: Mii amo, A Destination Spa
Location: Sedona, Arizona
"The Crystal Grotto represents the heart and soul of Mii amo. The design of this serene space is based on the Native American kiva—an enclosed, sacred room used for spiritual ceremonies. It contains an aperture in its domed ceiling, which has been carefully positioned to focus the sun's rays onto the center of the room during the Summer Solstice. The interior also features a mandala (a geometric arrangement of various elements that represents the universe) made of petrified wood and quartz crystal, which sits on the red earthen floor," said general manager Jill Clark. 
The Space: Relaxation Room
The Spa: Sagestone Spa at Red Mountain Resort
Location: Ivins, Utah
"Our large, wall-to-wall windows offer guests a panoramic vista of vast acres of red desert, black lava rock and towering red sandstone cliffs. This view invites spa-goers to contemplate the natural beauty of the desert; they can also relax and envision the adventures they may embark on in our great outdoors," said general manager Tracey Welsh.
The Space: Resting Area
The Spa: Mirbeau Inn & Spa
Location: Skaneateles, New York
"Our unique resting area, located in the heart of the spa, is a space for guests to relax and keep warm by snuggling up around the stone fi replace and heated foot pool. The circular design of this sanctuary emulates a Roman bath but features plush cushions and fresco-style artwork. Dimmed lighting and soft meditative music lull our guests to a relaxed state (or even sleep!) on our arched teak recliners," said  Catherine Sinclair, spa director and resort manager.
The Space: Rooftop Deck
The Spa: Kohler Waters Spa
Location: Kohler, Wisconsin
"This tranquil oasis is where visitors can experience water—the foundation of Kohler Waters Spa—by seeing it, hearing it and feeling it. The moment guests journey up to the space, their senses are engaged. Surrounded by glass, this co-ed lounge is adorned with an impressive fireplace, divinely warm whirlpool bath and sparkling skylights. The enclosed deck was designed to provide a relaxing escape that pulls hydrotherapy together with amazing views, whether it's the first Wisconsin snowfall or vibrant foliage," said Garrett Mersberger, director.
The Space: Relaxation Room
The Spa: Mayflower Grace Spa
Location: Washington, Connecticut
"Our lounge was designed and decorated in a turn-of-the century style and we aimed to create a sense of intimate relaxation. Located on the east end of the spa building, the room becomes bathed in morning sunlight through floor-to ceiling windows overlooking the pond and our Mayflower forest. Because the space's coloring is so simple, guests can easily be mesmerized by the different shades of green within the forest. A slew of details—art books, handcrafted glass decor pieces, unique fabrics and throws—combine with the neutral palette for an understated elegance. We feel that our relaxation room awakens a sense of awe, while welcoming guests with a soothing and calming embrace," said Victoria Boscarino, director of spa and wellness.
The Space: Tranquil Areas
The Spa: Jacqueline Morgan Day Spa
Location: Prince Frederick, Maryland
"My spa occupies a house that was built in the 1700s. Much of the flooring and architectural features are original, and we take great pride in keeping this old house alive to ensure that it feels like home as soon as our guests walk in. Our county is bordered by the Chesapeake Bay, Patuxent River, Solomons and Broomes Islands, plus countless creeks. I wanted the spa to reflect our artistic community, the beautiful waters and general peacefulness and beauty of this region. So, instead of your typical spa and salon decor, I decided that great art, good books, and the feeling of being home by the water would better suit our guests," said spa owner Jackie Martin.
The Space: Relaxation Deck
The Spa: Island Spa Catalina
Location: Avalon, California
"Our open-air relaxation deck overlooks Avalon Harbor, provides unparalleled sunset views and sea breezes, and is beautifully appointed with neutral-colored plush sofas and chaise longues. Catalina Island is only 26 miles from Southern California's coast, but being on this deck makes guests feel like they're a million miles away; it's the ideal place to sit peacefully, enjoy the tranquility and simply 'be,'" said spa director Zach Thomas.
The Space: Sanctuary
The Spa: The Ritz-Carlton Spa
Location: Los Angeles
"Walking into our spa is like stepping into a classic Hollywood movie; guests are surrounded by soft light and graceful decor that immediately makes them feel pampered and elegant. Our theme— champagne and shimmer—blends with our neutral color palette because we carefully selected complementary gold, silver, crystal and mirror accents. Unique fabrics, textures and other minute details are layered for a calming yet effervescent ambiance," said Kory Keith, spa director.
The Space: Relaxation Atrium
The Spa: Rivage Day Spa
Location: Birmingham, Michigan
"This multipurpose room, used for relaxing and entertaining, often hosts spa events. When decorating this communal space, we mixed various metals, creams with whites, and black with indigo. We felt these color combinations were able to bridge the gap between femininity and masculinity—typically difficult to achieve in a spa setting. We deliberately selected furnishings that were comfortable and textured yet timeless and classic. We also chose pops of pattern and sparkle with plush pillows, shimmering lighting fixtures and an accent wall that looks like vintage reclaimed wood but is actually porcelain tile. These details have enabled our spa to embody a relaxing energy. After all, 'rivage' means a shore or coast, and those are perfect places to unwind," said Jessica Lundberg, spa director.
The Space: Outdoor Fireplaces
The Spa: Deer Lake Lodge and Spa
Location: Montgomery, Texas
"Our entire 50-acre resort is a rustic-chic oasis; every inch provides guests with their ultimate private retreat. Several of the property's facilities are constructed from recycled and refabbed shipping containers that have now been insulated with recycled denim materials. Our lodge's comfy southern decor allows visitors to feel right at home. Many spend their time sitting beneath the stars by the outdoor fireplaces, a quiet atmosphere that lets guests feel truly safe, yet 'lost' in nature. Our spa is only a few minutes from civilization, but the trees on the property are 30 feet tall and protectively surround the resort, so people have the sensation that they're miles away," said Carrie Harmon, spa director.
–By Rachel Kossman